Independent Toy Award Voting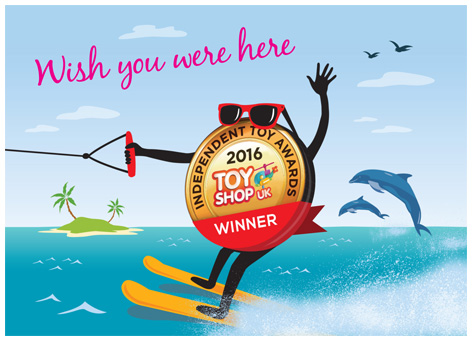 Now in our 8th year, the Independent Toy Awards are all about celebrating the products which are most loved by you, the nation's independent toy retailers.
If you can spare a few moments of your time, we'd be really grateful if you could visit any or all of the category pages shown below and drop us a quick email saying which is your favourite product in each category.
We'll then collate the votes and award gold, silver and bronze medals to the top 3 products in each category.
App (See the entries >>)
Baby (See the entries >>)
Children's Gifts (See the entries >>)
Collectable (See the entries >>)
Construction (See the entries >>)
Creative (See the entries >>)
Dolls (See the entries >>)
Eco (See the entries >>)
Educational (See the entries >>)
Electronic (See the entries >>)
Flying (See the entries >>)
Games (Action) (See the entries >>)
Games (Board) (See the entries >>)
Games (Card) (See the entries >>)
Games (Educational) (See the entries >>)
Jigsaws (See the entries >>)
Licenced (See the entries >>)
Outdoor (See the entries >>)
Radio Controlled (See the entries >>)
Ride-ons (See the entries >>)
Role Play (See the entries >>)
Soft (See the entries >>)
Special Needs (See the entries >>)
Vehicles (See the entries >>)
Wooden (See the entries >>)