Independent Toy Awards Reactions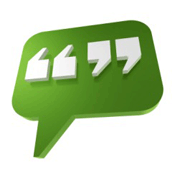 "We are delighted to have won our awards. We have seen a marked increase in interest in these two items from retailers since our wins were announced."
Alice Lazarus, Europe Marketing Manager, KidKraft
Independent Toy Award entrants know that their win will be publicised to both trade and consumers with gusto. In addition, many winners capitalise on their win in some pretty novel ways - and we've included a handful of our favourites below.

Entering the Independent Toy Awards is far from a vanity project. Medal logos provide winners with an instantly-recognisable visual reminder of their win. It's the perfect way to show will-be-consumers that the product has been given the thumbs up by independent toy retailers.
The publicity given to the awards by the trade press continues to grow...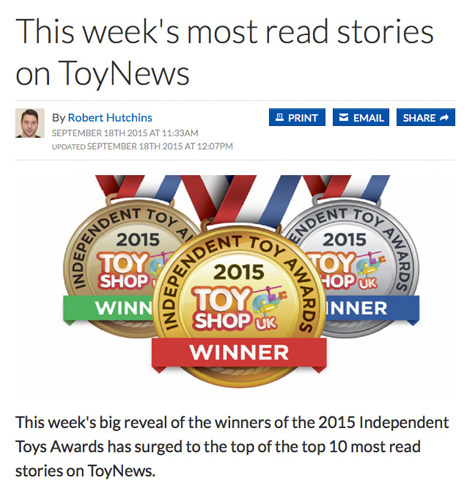 KidKraft reported a spike in sales as a direct result of displaying their winning medals alongside product promotions on Facebook...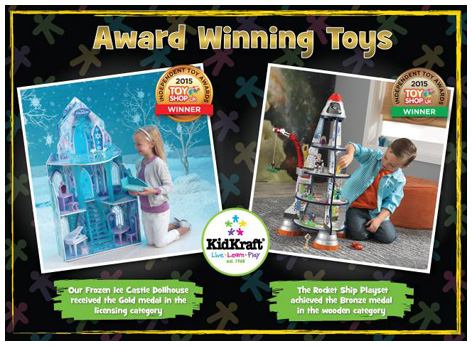 Marvin's Magic made a great use of their medal and trophy in this trade advert.
My Friend Freddy Bear was quite rightly proud of his win...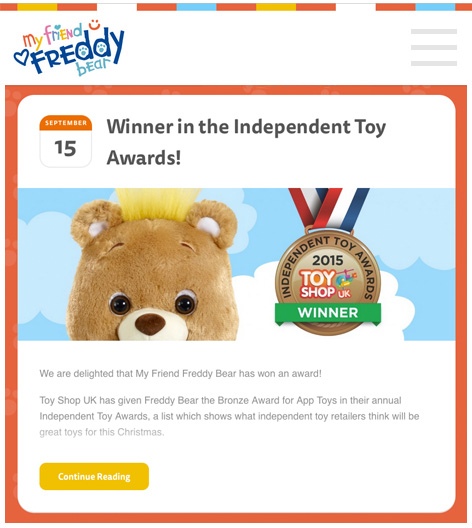 Here's how Parragon celebrated their win...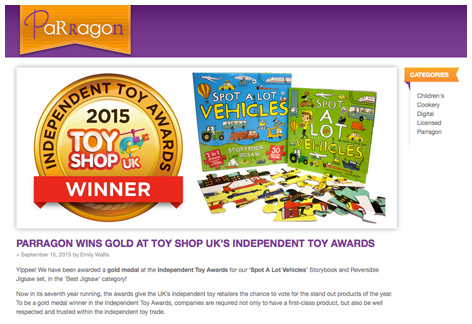 Sambro made their gold medal win a top news item. They also ran a hugely successful Facebook competition for consumers to win their award-winning toy. The post had a reach of 16.6k people and was shared 659 times.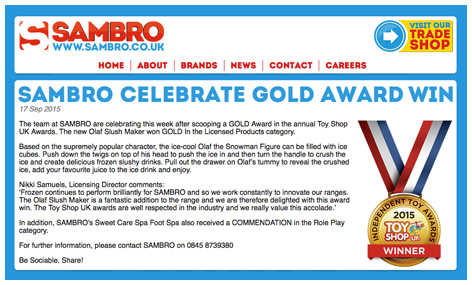 Bigjigs took over much of their homepage to shout about their two 2015 medal wins...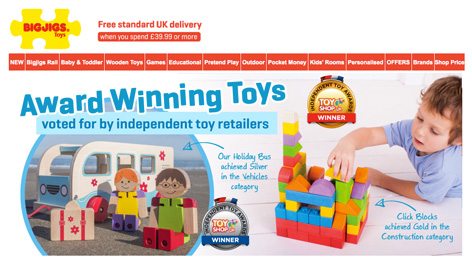 We particularly like the use of DKL's winning logo in this blog piece...
Less than an hour after the winners were announced, the trade press was hot on the story with impeccable coverage.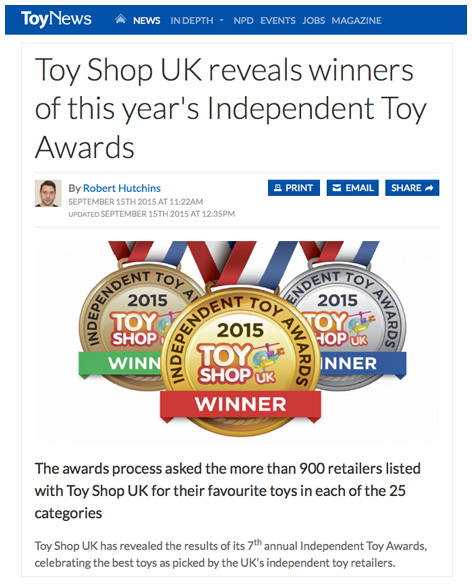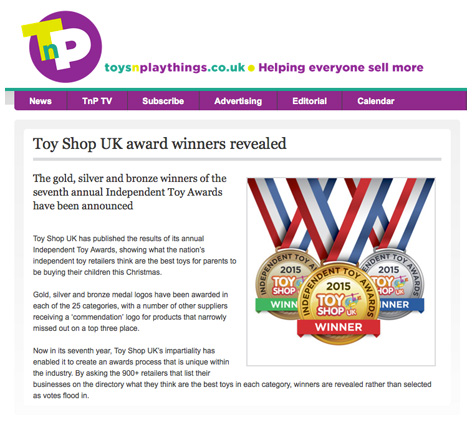 As well as publishing the main announcement, Toys 'n' Playthings also ran with many of the winners' press releases, including this one for Marbel...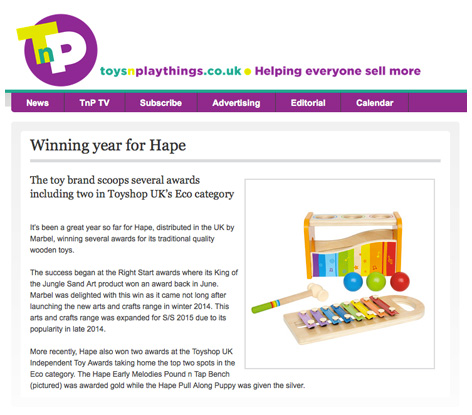 Science4you made great use of their silver medal on product packaging...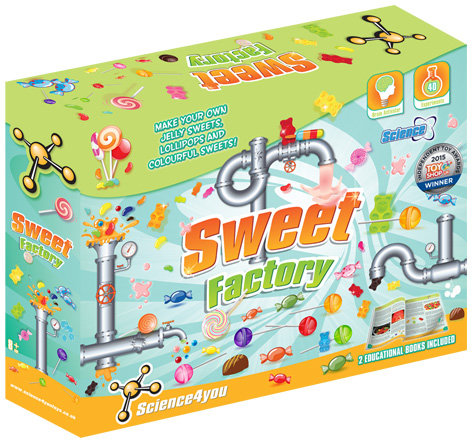 Previous uses
VTech's use of their gold medal on Amazon is a great way to show that their product is an award winner.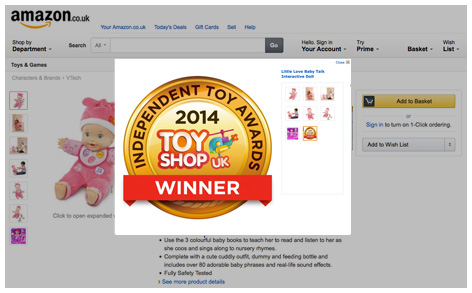 We loved seeing Alice Taylor, founder of one of the country's most exciting start-ups, Makielab, using her winning medal in this keynote speech.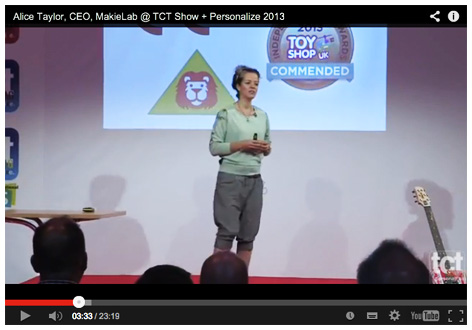 The 2014 "App" category entrant, NPW, celebrated their gold win in a suitably fitting way. Using nothing other than their winning product, NPW created this short film showing the playful plasticine characters celebrating the arrival of their prestigious award trophy.
Local newspapers and specialist publications never fail to pick up on the sucess of individual companies. In 2014 this included a write-up about Accentuate in the Liverpool Echo, a feature in a Sri Lanka news portal and an article on Makielab's win in a 3D printing publication.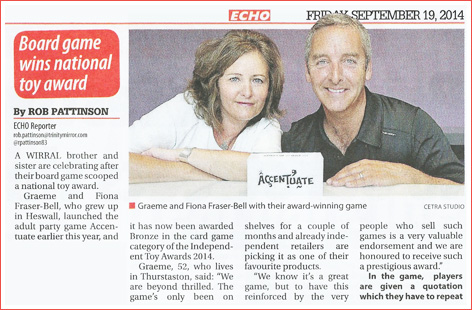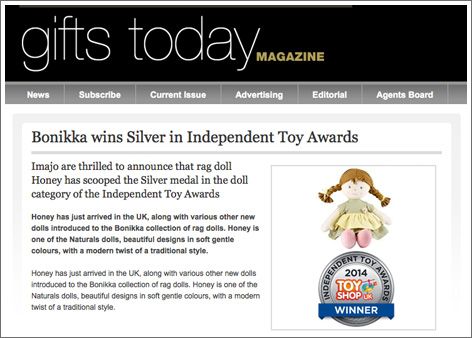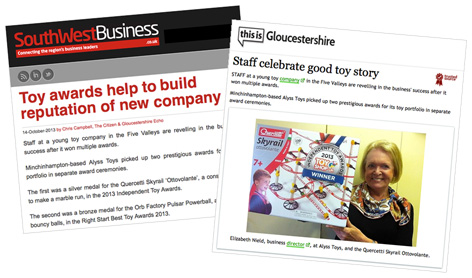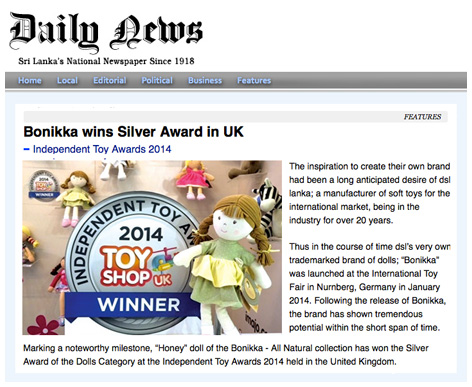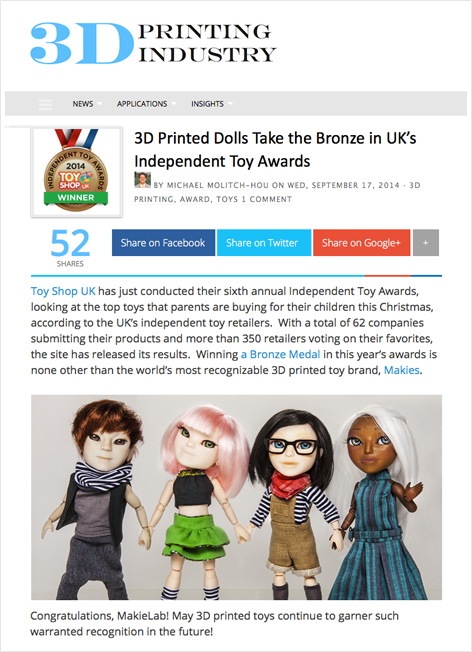 Wander around Toy Fair, Spring Fair, Spielwarenmesse or showrooms around the country, and you will see companies 'wearing' their Independent Toy Award medals with pride. We particularly like Leapfrog's use of the logo on their 2013 Toy Fair stand.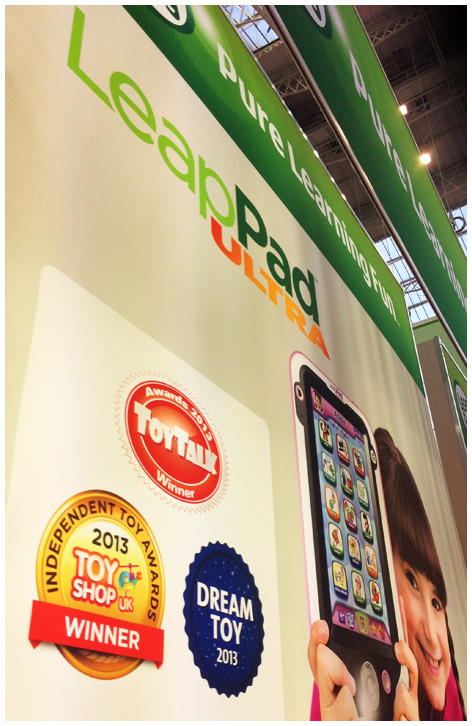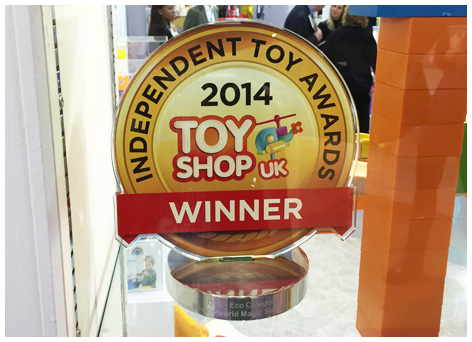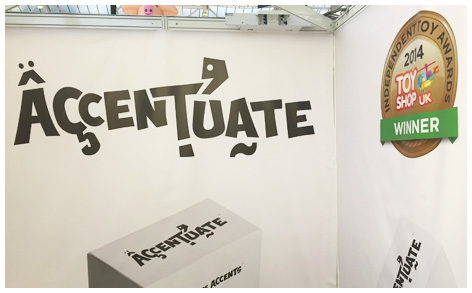 We always aim to generate a few hundred Tweets but never expected to generate a few thousand in 2014! It was great to see how vocal consumers were, whilst we were also bowled over by the excellent trade response. Some of our favourite Tweets came from these lovely people.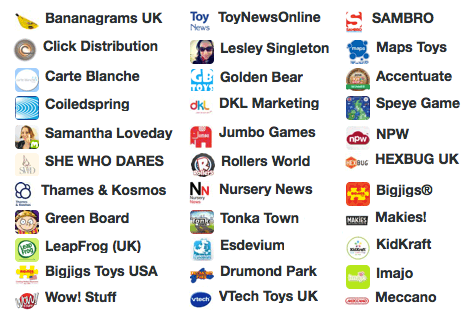 Almost all winners naturally shout about their win to their friends and followers. Here's some of the best ones from 2014.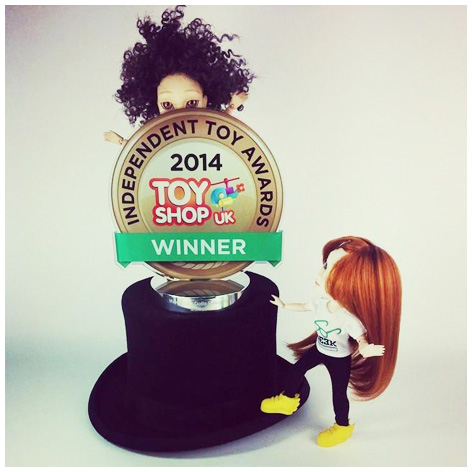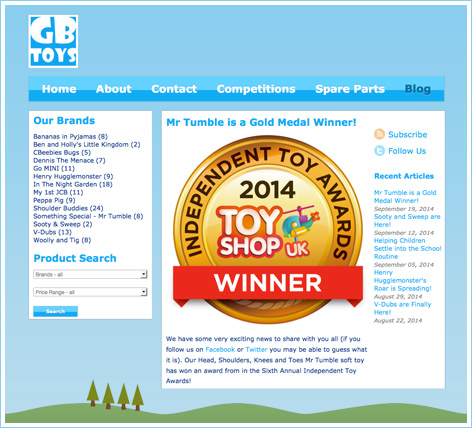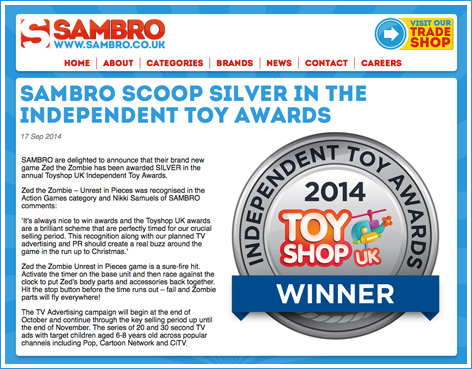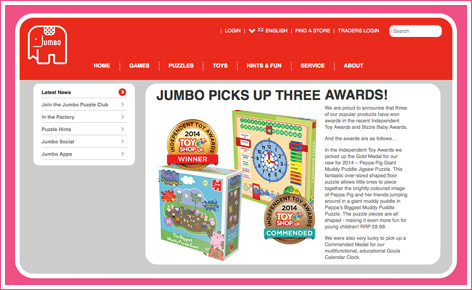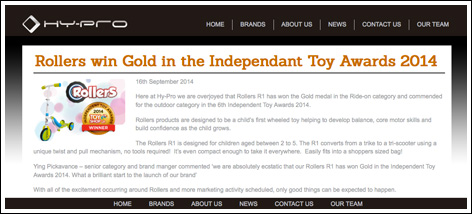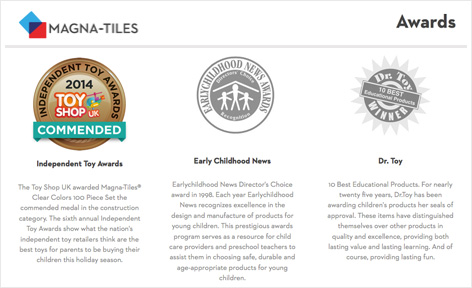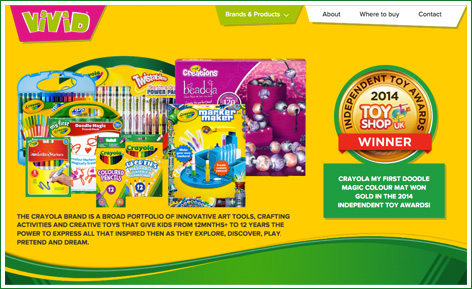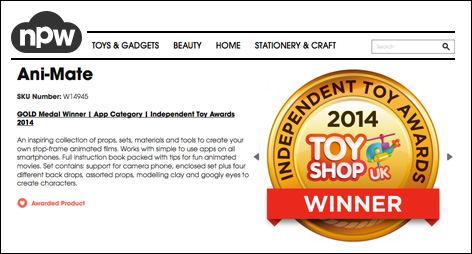 Champion of the independent retail trade, Gifts and Greetings Review picked up on Carte Blanche's 2014 Moshlings win.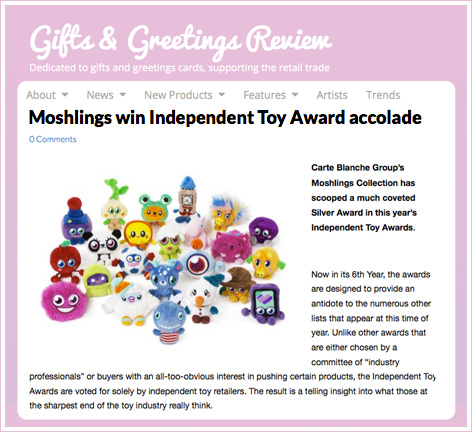 Winners use their winning medal in brochures and print adverts, like this one from Hy-Pro.