Oxford Toy Shops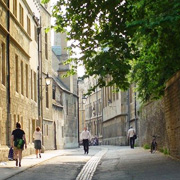 Steeped in history and tradition, Oxford is a vibrant city that is littered with great places to buy fine food & drink, listen to music, see theatre... and buy toys! Templars Square is the city's biggest enclosed shopping centre and The Westgate Shopping Centre boasts a variety of large chain stores, some of which keep a small selection of popular toys.
The Oxford Pram Centre in Harrow Road is one of the UK's largest independent nursery shops. They stock all the major nursery brands, and offer car seat fitting as an extra service. Elsewhere in the city, there are miles of cobbled streets and alleyways that are host to many independent Oxford toy shops.
Well worth a visit are Little Wonders in St Ebbes Street and The Gameskeeper in Cowley Road. On the outskirts of Oxford, you will also find some larger retail units that are home to the likes of Mothercare and Toys 'R' Us, but you can also seek out some interesting independent toy retailers - some of which specialise in larger, outdoor items such as climbing frames and bikes.
POPULAR RETAILERS
2A Botley Road, Oxford, Oxfordshire, OX2 0AB‎
0845 165 7051‎
Online Sales Only, Oxford, Oxfordshire, OX3 0DS
01865 763301
1A New Inn Hall Street, Oxford, Oxfordshire, OX1‎
01865 242 182‎
71 High Street, Oxford, Oxfordshire, OX1 4BA
01865 203244
Oxford Retail Park, Ambassador Avenue, Oxford, Oxfordshire, OX4 6XJ
01865 712309
Unit 4, Oxford Trade Centre, Harrow Road, Oxford, Oxfordshire, OX4 6NU
01865 748480
Unit 21A, Monument Business Park, Chalgrove, Oxford, Oxfordshire, OX44 7RW
01865 891562
22 Stert Street, Abingdon, Oxford, Oxfordshire, OX14 3JP
01235 520476
Botley Road, Oxford, Oxfordshire, OX2 0HA
OTHER RETAILERS
Gamestation

10 Westgate, Oxford, Oxfordshire, OX1 1NU
01865 203876‎
The Gameskeeper

105 Cowley Road, Oxford, OX4 1HU