Bath Toy Shops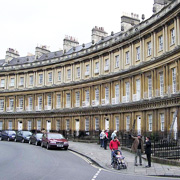 As one of the world's great cities, Bath has succeeded in blending its heritage with a modern, cosmopolitan buzz and plenty of small, independent shops. There is good selection of specialist Bath toy shops that are well worth a visit. This includes Down To The Wood on Cheap Street, The Teddy Bear Shop on York Street and Enkla on Broad Street.
Eric Snook's is especially well-known in the city as an independent retailer who provides quality products with an exemplary level of traditional customer service. Alternatively, if you're looking for something a little different, why not check out Crock-a-Doodle-Do on Walcott Street? Here, children can paint their own crockery! If you've found yourself on this page when you are actually looking for bath time toys, please visit our bath toys category page.
FEATURED RETAILERS
This excellent shop offers a wide selection of prams, pushchairs and cots.
Read more about Eric Snook's Golden Cot >>
POPULAR RETAILERS
Wellsway Works, Wells Road, Radstock, Somerset, BA3 3RZ
Unit SU53, 7 Southgate Street, Bath, Somerset, BA1 1AQ
01225 463100
22-24 Union Passage, Bath, Somerset, BA1 1RD
01225 464914
5-10 Westgate Buildings, Bath, Somerset, BA1 1EB
01225 334 044
40 Stall Street, Bath, Somerset, BA1 1QH
0844 573 4575
5 Cheap Street, Bath, Somerset, BA1 2NE
01225 335 870
OTHER RETAILERS
Bath Model Centre

2 Lower Borough Walls, Bath, BA1 1QR
01225 460115
Childs Play Activity Toys

The Close, Inglesbatch, Bath, BA2 9DZ
01225 314123
Down To The Wood

9 Cheap Street, Bath, Somerset, BA1 1NE
01225 443953
Freshford Bazaar

9 Abbey Green, Bath, BA1 1NW
Gamestation

29 Westgate Street, Bath, Somerset, BA1 1EP
01225 487725‎
Iksentrik

3 George Street, Bath, Somerset, BA1 2EH
01225 316 049
My Small World

19-21 St Lawrence Street, Bath, BA1 1AN
01225 338668