The Toy Barrow
No customer reviews yet. Be the first.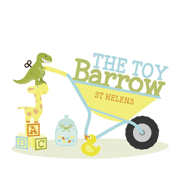 Address
Unit 7, Barrow Arcade, Claughton Street, St Helens, Merseyside, WA10 1RR
Telephone
01744 732796
Website
www.thetoybarrow.com
About
Just off the main shopping street in St Helens, Merseyside, you find a real hidden gem of an independent shopping known as the Barrow Arcade on Claughton Street. Once the site of the famous "Oobidoo" shopping experience, the arcade now plays host to a vibrant group of small, independent businesses which all have something a bit different to offer.
The jewel in the crown of this shopping arcade is The Toy Barrow, an "under one roof" shopping destination for families and children. As the name suggests, they specialise in children's toys of all shapes and sizes (and to suit all pockets). They offer pocket money bargains, jokes and gags, traditional and educational toys, board games, construction kits, puzzles and a wide range of arts and crafts activities.
Alongside toys, The Toy Barrow stocks high quality children's books in partnership with Lakeland Children's Books. They also sell a small selection of children's fancy dress outfits, a comprehensive range of retro and traditional sweets and greetings cards.
The Toy Barrow is a St Helens toy shop that specialises in pocket money toys.
---
Opening Times:
Monday: 09:00 - 17:30
Tuesday - Saturday: 09:00 - 17:00
Sunday: Closed
---
Favourite suppliers
---
Favourite licences
---
Additional facilities
---
Payment methods