Move & Groove
No customer reviews yet. Be the first.
Eddy Grant may not have wanted to dance (I think we might be showing our age here) but we know that everyone will be moving and grooving with the latest preschool game from ThinkFun, Move & Groove - a follow up to the hugely popular and award winning Roll & Play.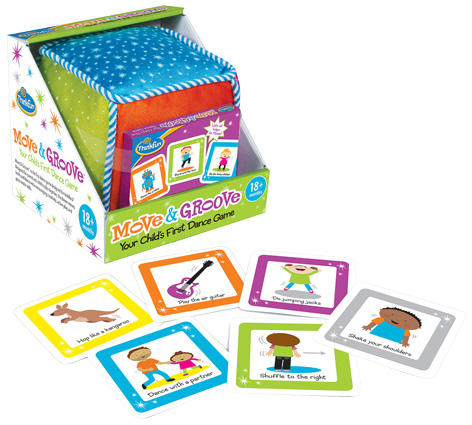 Simply roll the big plush cube and chose a card that matches the colour to find out what dance move you're going to do – will you be playing air guitar, jumping like a kangaroo or shaking those shoulders along to the music?
The game is designed to inspire movement and creativity without the pressure of competition because there's no right or wrong way to boogie. Dance is all about interpretation and imagination so Move & Groove is a perfect was to help your children improve balance, co-ordination and flexibility – and you might learn some new moves as well! (We're looking at you 'dad dancers!')
As well as being a superb game that the whole family can join in with Move & Groove is also great for group work in pre-schools and nurseries. Suitable for ages 18 months and upwards, the game has 48 dance move cards (8 in each category). The cards are stored in a handy pocket in the large washable plush cube. Legwarmers not included!
RECOMMENDED RETAILERS

Amazon
The world's most famous online retailer sells an unparalleled selection of toys.
Buy the Move & Groove now >>