Toot-Toot Princess Palace
No customer reviews yet. Be the first.
It may seem a bit of a mouthful, but the Vtech Toot-Toot Friends Kingdom Enchanted Princess Palace is a monster of a playset. Packed fully of interactive features, there are six different MagicPoint locations where all of the characters can interact with each other.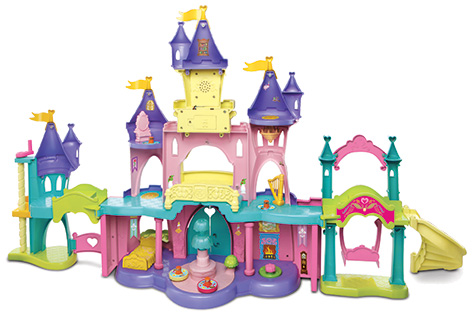 Stairs, interconnecting bridges, doorways, turntables and a spiral exit are just a few of the working parts. Standing almost 70cm tall at the highest point, the Princess Palace also has over 80 built in phrases, melodies, songs and sounds which are accessed via the light up buttons on the castle front.
Princess Darla figure is included in the set which also has a music room, dressing room and dancing room to entertain and enchant all the young Princess fans. Best of all, the characters in this set also interact with all other Toot-Toot toys meaning multiple play options across all ranges.