SET
No customer reviews yet. Be the first.
SET is a card game where your table becomes the board! Race to find a SET of 3 cards where each feature is either all the same or all different on each card. Age is not an advantage - leaving a level playing field for the entire family. Suitable for ages 6-99, SET is a perfect travel or party game that brings generations together.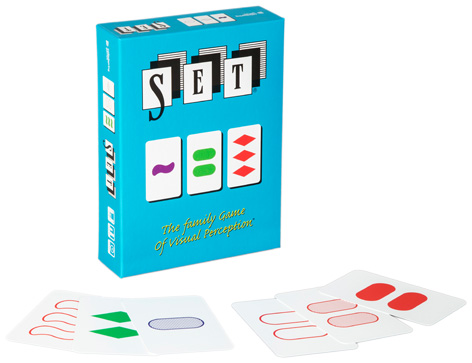 With no turns and no luck, SET is challenging, fast and fun. It makes a perfect after dinner game that can be played in as little as 20 minutes. Play it alone or with as many players as you can fit around your table!
SET builds cognitive, logical and spatial reasoning skills as well as visual perception skills due to its rule of logic. Because players must apply this rule to the spatial array of patterns all at once, they must use both left brain and right brain thought processes.
SET, The Family Game of Visual Perception, has won over 35 best game awards including MENSA Select. Be the one who has the most SETs when the cards are gone, and you win!
RECOMMENDED RETAILERS

Amazon
The world's most famous online retailer sells an unparalleled selection of toys.
Buy SET now >>