Rory's Story Cubes: Voyages
No customer reviews yet. Be the first.
This version of the amazingly successful Rory's Story Cubes takes kids on a magical journey of travelling discovery! Using 9 dice, each one with a different picture on every face, Voyages Story Cubes has no rules, and no specific 'winners'. Kids use their plentiful imagination to make up weird and wonderful stories about the world of travel – all from a roll of the dice.
Stories can range from the sensible to the outrageous where glasses-wearing elephants come up against monkeys that have surfed tidal waves, or bright shiny goblets have turned into magical beans. Let the imagination run wild with a Rory's Story Cubes: Voyages game.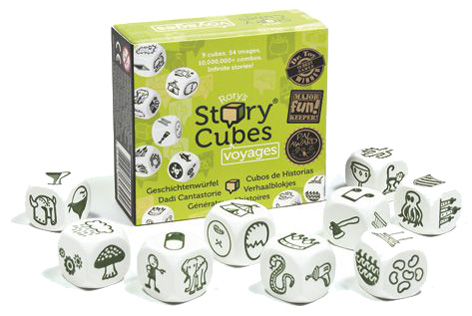 Over 10 million combinations of dice roll means that no two stories are ever the same. This Voyages set can even be combined with earlier versions for even more fun and imagination. Adults can have as much fun as the kids with a set of Rory's Story Cubes Voyages without having to pack a bag or book a single ticket!
RECOMMENDED RETAILERS

Amazon
The world's most famous online retailer sells an unparalleled selection of toys.
Buy Rory's Story Cubes: Voyages now >>