Top Toys for Christmas 2016
No comments yet. Be the first.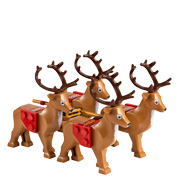 When you consider that toy retailers live and die by their ability to predict what will fire the imaginations of children at Christmas time, it's no great surprise that toy predictions have become something of an industry institution.
These "Top Toy" lists generate plenty of column inches for the industry - and whilst many of them are painfully transparent, there's always a few gems that warrant a closer look.
Argos was the first retailer to announce their 2016 Christmas predictions on the uncomfortably early date of 16th June. This doesn't quite pip Tesco's record though... In 2011 they announced theirs on 6th June!
HAMLEYS' TOP TOYS FOR CHRISTMAS

Winners (Announced 7th October)
The public are always interested to see what Hamleys select as their top Christmas toys. This year they received an impressive amount of media coverage for their list which includes a Star Wars quadcopter drone that retails for an eye-watering £199.
Pieface from Hasbro
Paw Patrol Zoomer from Spin Master
Nerf N-Strike Mega Mastodon Blaster from Hasbro
Code-a-Pillar from Fisher-Price
Kidizoom Smart Watch from VTech
Magic Showcase from Marvinís Magic
Bean Boozled from Jelly Belly
Star Wars Krennicís Imperial Shuttle from LEGO
Star Wars Virtual Reality Viewer from Wow! Stuff
DreamWorks Trolls Hug Time Poppy from Hasbro

The Winners (Announced 20th September)
You can certainly never accuse Toys 'R' Us of being too risky with their Christmas predictions. Nevertheless, the brilliant "Chip The Robot Dog" sits proudly at the top of list, followed by a mish-mash of products from famous household names.
Chip Robot Dog from WowWee
Furby Connect from Hasbro
LEGO Friends Party Shop from LEGO
LEGO Ninjago Samurai Cave Chaos from LEGO
Minions Pie Face from Hasbro
Nerf Tri Strike from Hasbro
Num Noms Glossy Lip Gloss Truck
Paw Patrol Air Patroller from Spin Master
Selfie Mic from World's Apart
Shopkins Shoppies Smoothie Truck by Flair
Star Wars Spinning Lightsaber from Uncle Milton
Thomas Sky High Bridge Set from Mattel
Toys 'R' Us Unicorn from Toys 'R' Us
Trolls Hug Time Poppy
AMAZON.CO.UK ANNOUNCES ITS TOP TOYS FOR CHRISTMAS

The Winners (announced 16 August 2016)
It may be the summer holidays but thoughts are already turning to whatís going to be under the tree at Christmas for the toy and game managers at Amazon UK.
They describe their list as being steeped in tradition - with a dolls house, train set and toy dog all making the grade - but each benefiting from new and exciting technology that transforms them for the next generation.
Furby Connect by Hasbro
CHiP the Robot Dog by WowWee
My Friend Dory by Bandai
Nexo Knights Siege Machine of Doom set by LEGO
FurReal Friends Torch My Blazin' Dragon by Hasbro
Barbie 3-Storey Townhouse by Mattel
TrackMaster Thomas' Sky-High Bridge Jump Set by Mattel
Code-a-Pillar by Mattel
VTech Kidi Super Star by VTech
LEGO'S CHRISTMAS TOY PREDICTIONS

The Winners (Announced 25th July)
LEGO has revealed its top seven products for Christmas 2016, boasting new attractions at Heartlake Cityís Amusement Park and a Volcano Base.
LEGO Friends Amusement Park Roller Coaster (£89.99)
LEGO DUPLO My First Rocket (£8.99)
LEGO City Volcano Exploration Base (£79.99)
LEGO NEXO KNIGHTS Jestroís Volcano Lair (£99.99)
LEGO NINJAGO Ultra Stealth Raider (£79.99)
LEGO Star Wars Resistance X-Wing Fighter (£79.99)
LEGO Super Heroes Doc Ock's Tentacle Trap (£44.99)

MIDCO'S TOP 10 CHRISTMAS TOYS

Winners (Announced 28th June)
In reaction to the top toy lists unveiled by Argos, Burton-based independent retailer, Midco Toys, decided to publish their own.
Midco boss Dave Middleton believes that the price of many of the toys in the Argos list are unecessarily high and so he set out to craft a list that's more concerned with quality rather than price point.
He also aimed to represent what he sees as the year's top licences, and what - as an independent retailer - he can personally see selling in the run up to the all-important Christmas period.
Five Nights at Freddys Plush
Pokemon Trading Card Game Fall Tin
Blaze and the Monster Machines Die Cast Vehicle
Paw Patrol Vehicle
Pie Face Showdown
Shopkins Series 5 and Series 6
LEGO Star Wars Rogue 1
Animal Jam Adopt a Pet Blind Bag
DC Superhero Girls Fashion Doll
Twozies 12 pack
ARGOS PICKS THEIR FAVOURITES

Winners (announced 16th June 2016)
First out of the blocks again, Argos's top Christmas toy list for 2016 is an attempt to gauge what will be on the top of children's wish lists in the run up to Christmas Day.
Zoomer Chimp (£119.99)
Paw Patrol Air Patroller (£39.99)
LEGO City Volcano (£79.99)
VTech Toot-Toot Drivers Goldmine (£52.99)
Nerf Modulus Tri-Strike (£59.99)
Tiny Treasures Baby Doll (£39.99)
SelfieMic (£19.99)
Design a Friend Tiffany (£49.99)
Snuggles My Dream Puppy (£49.99)
Fisher-Price Code-a-Pillar (£49.99)
BB-8 (£59.99)