Top Toys for Christmas 2017
No comments yet. Be the first.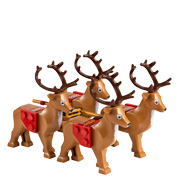 When you consider that toy retailers live and die by their ability to predict what will fire the imaginations of children at Christmas time, it's no great surprise that toy predictions have become something of an industry institution.
These "Top Toy" lists generate plenty of column inches for the industry - and whilst many of them are painfully transparent, there's always a few gems that warrant a closer look.
Argos was the first retailer to announce their 2017 Christmas predictions on the uncomfortably early date of 22nd June. This doesn't quite pip Tesco's record though... In 2011 they announced theirs on 6th June!
ARGOS PICKS THEIR FAVOURITES

Winners (announced 22nd June 2017)
First out of the blocks again, Argos's top Christmas toy list for 2017 is an attempt to gauge what will be on the top of children's wish lists in the run up to Christmas Day.
Argos have described this year's top toys list as "a fantastic blend as toymakers evolve childhood favourites alongside the introduction of newer and more technology-led gifts".
Luvabella
Airhogs DR1 Official Race Drone
Disney Cars 3 Lightning McQueen
Hatchimal CollEGGtibles
LEGO Boost
Tiny Treasures Twin Set
LEGO Friends Sunshine Catamaran
PJ Masks Headquarter Play Set
Transformers: Radio-control Sqweeks
Fisher-Price Teach n Tag Movi
Paw Patrol Sea Patroller
SoundMoovz