The Independent Toy Awards
The Independent Toy Awards are open for entries!
It is with considerable excitement that we can announce that the 2016 Independent Toy Awards are now open for entries! Please make sure you send us your completed form by Tuesday 16th August at the very latest.

About the awards
Our awards enjoy unrivalled respect within the toy industry, thanks to being voted for - not by "experts", "testers" or "panels" - but by those at the sharpest end of the industry... the nation's independent toy retailers.
We are uniquely positioned to host such awards, thanks to our ever-growing network of over 900 independent toy retailers that list themselves on this website for free.
Thanks to the wholly democratic entry and voting process, the typically eclectic list of winners is made up of all kinds of companies... from household name behemoths to fledgling start-ups.

2015 Gold Medal Winners (show me the winners)
To be a gold medal winner in the Independent Toy Awards, you need to not only have a first-class product but be well respected and trusted within the independent toy trade.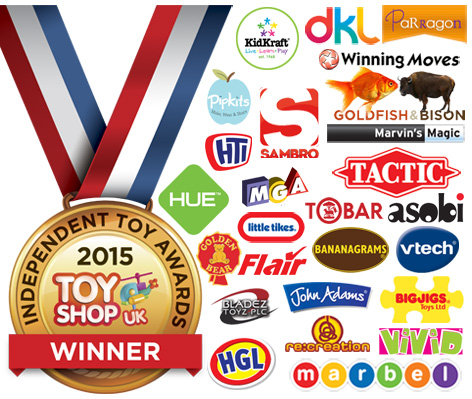 2015 Silver Medal Winners (show me the winners)
A large number of products that won silver were so close to a gold medal that a vote or two either way would have tipped the balance. As well as household name companies, you'll notice a generous smattering of lesser known companies too, which just goes to show how our awards aren't about marketing muscle... they're about having a great product.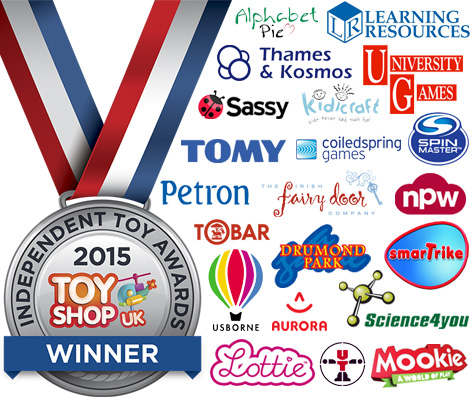 2015 Bronze Medal Winners (show me the winners)
The quality of the products submitted by the following bronze medalists only goes to show how closely fought our awards were this year.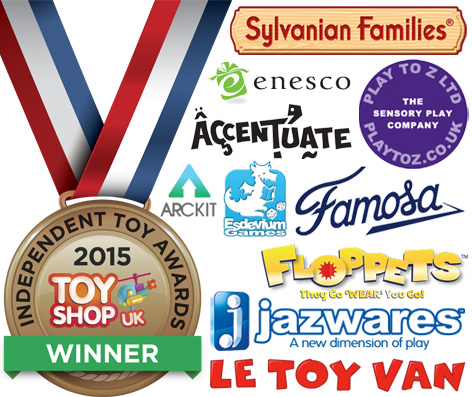 2015 Commended Medal Winners
The companies below narrowly missed out on a top three medal this year, but acheived at least 10% of the votes in their respective categories.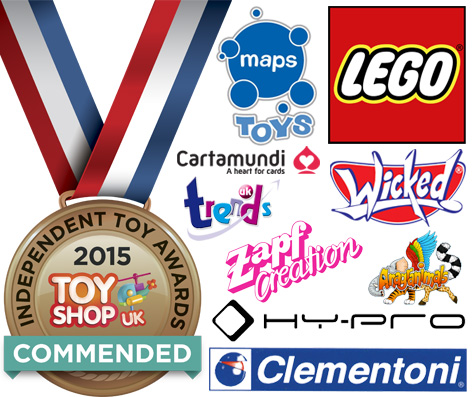 WHAT THE WINNERS ARE SAYING

We are delighted to have won our awards. We have seen a marked increase in interest in these two items from retailers since our wins were announced.


We are extremely happy to have received the gold medal in the electronic toys category of the Independent Toy Awards 2015. This gold medal is the result of a lot of very hard work in developing a completely unique and high quality product.

We are really pleased to have won a GOLD medal for our RC Mycropodz Nano Drone. The handset storage/charging feature has been really well received so far, and we're thrilled to have this recognised in the Independent Toy Awards!


Bigjigs are delighted to have won Gold with Click Blocks - validation that this tactile and brightly product is one of the best wooden construction toys for the 12 month + age group.

I'm thrilled that Fruitominoes has scooped a Gold Award. It's a fun and fruity twist on a classic and remains a popular choice for the whole family. For the game to receive recognition from independent toy stores in this way is a real honour.

It's brilliant to have won GOLD in such a well respected awards scheme. Our Olaf Slush Maker is proving really popular and this award is testament to that.


We're delighted to have been awarded a GOLD medal. We've had a tremendous response from the parents and teachers for this product and it's great to know that retailers feel the same!

Everyone at HTI is absolutely thrilled with our a Gold Medal in the Independent Toy Awards. We are sure that preschoolers nationwide will love the Peppa Pig House Kitchen as much as the independent toy retailer judges!

We're delighted that our products have been recognised at this years awards. Our team work very hard designing and sourcing the most fantastic all year round. We felt we had some brilliant entries this year and the awards give us an extra boost!

We are delighted to win a gold and silver award in the same eco category with two of our most popular Hape products. I'm sure after winning this award they will also continue to be successful.
We are thrilled that two of our newly launched products, the Anamalz Moose and the SmartLab Squishy Human Body, have won medals in this year's Independent Toy Awards. The awards are highly esteemed and we look forward to capitalising on our wins.

Here at Pipkits we are all very excited to hear the news of our success at the 2015 Independent Toy Awards, winning a Gold & Bronze for our latest Pipkits ranges is fantastic recognition for our children's jewellery making kits brand.

All at Tactic Games are delighted to have been awarded a gold medal for our product entry 'Draw Out Junior' in the Board Games Category. The Tactic UK team wish to thank the Tactic product development team at our head office in Finland and all the staff that make the production and distribution of our games possible.


Andy Graham (Managing Director, Petron Sports)
It is a fantastic result to win an Independent Toy Award Silver Medal for the Sureshot Pistol so soon after product launch. We hope this will help bring a wider recognition of our new Sureshot branding and range of quality products to both current and future distributors and retailers worldwide!