2017 Independent Toy Awards
Entry dates
The 2017 Independent Toy Awards open for entries on 2nd August and close on 16th August. Save the dates!
About the awards
Our awards enjoy unrivalled respect within the toy industry, thanks to being voted for - not by "experts", "testers" or "panels" - but by those at the sharpest end of the industry... the nation's independent toy retailers.
We are uniquely positioned to host such awards, thanks to our ever-growing network of over 900 independent toy retailers that list themselves on this website for free.
Thanks to the wholly democratic entry and voting process, the typically eclectic list of winners is made up of all kinds of companies... from household name behemoths to fledgling start-ups.
2016 Gold Medal Winners (show me the winners)
To be a gold medal winner in the Independent Toy Awards, you need to not only have a first-class product but be well respected and trusted within the independent toy trade.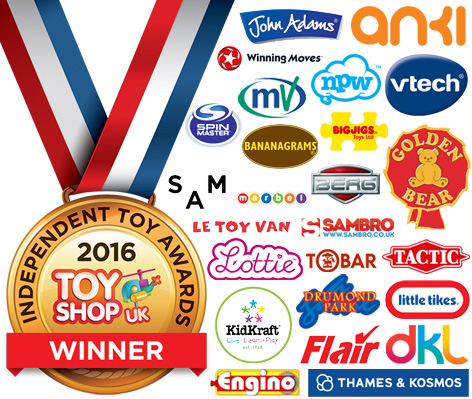 2016 Silver Medal Winners (show me the winners)
A large number of products that won silver were so close to a gold medal that a vote or two either way would have tipped the balance. As well as household name companies, you'll notice a generous smattering of lesser known companies too, which just goes to show how our awards aren't about marketing muscle... they're about having a great product.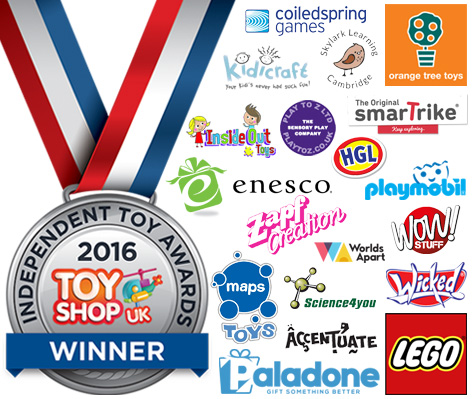 2016 Bronze Medal Winners (show me the winners)
The quality of the products submitted by the following bronze medalists only goes to show how closely fought our awards were this year.
2016 Commended Medal Winners (show me the winners)
The companies below narrowly missed out on a top three medal this year, but acheived at least 10% of the votes in their respective categories.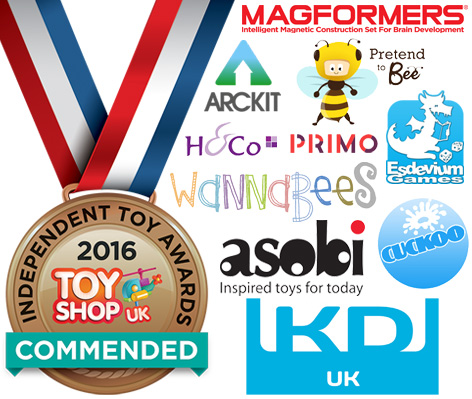 WHAT THE WINNERS ARE SAYING

What fantastic news! We are delighted that two popular products, from the extensive wooden range from Bigjigs Toys, have received Gold and a Commendation at the Independent Toy Awards.

We're over the moon about landing a gold award for the Santa's Sleigh Polyglider, a product we've produced in-house.

We are delighted to receive a gold award for the Magic Twirl Plush Mim-Mim from our Kate and Mim-Mim Collection. This toy is a wonderful example of how a child can be transported into their favourite TV series though the magic of play and it's great news to have received this recognition of excellence from an organisation that truly knows about toys and our industry.

This is a great start to Pickin' Chickens' trajectory up the popularity charts, and we are grateful to the independent sector for its recognition of the uniqueness and undoubted play value of this delightful new product.

We're delighted to pick up a commended award for the WOW Set, especially as Magformers is still so relatively new to the UK market.


My First BANANAGRAMS is our newest game, so to have it so well-received - and scoop Gold! - by independent retailers is absolutely brilliant!
We are delighted to have won both a Gold Award for our Mr Tumble Fun Sounds Musical Car and a Silver Award for our Oddbods Voice Activated Walking Fuse and Pogo. Independent retailers are hugely important to us as a business so it's fantastic that our products have been recognised in this way.

NPW are delighted to have struck Gold for our brand new Dino for the Day, launched this AW16. Ideal for fancy dress & birthday parties, the inflatable oversized green claws & long spiky table will instantly transform you into a prehistoric beast allowing you to practise your best ROAR!

We are delighted to win GOLD at the Independent Toy Award 2016 in the Vehicle Category with our NEW Retro Metro Car Set! Great price point, window packaging and lovely vintage colours; definitely a winner!"

Tactic's Original Draw Out and Draw Out Junior are proven evergreen products. We are delighted that the latest addition to the range, Party Draw Out has been awarded a Gold Medal in the prestigious Toy Shop UK awards 2016.

We're absolutely delighted that we've won a gold medal in this years Independent Toy Awards!

Stuart Collingwood (GM of Anki UK)
We're thrilled to have been awarded Gold in the App Toys category, it just shows how connected toys such as Anki OVERDRIVE are really shaking up the toy industry.


Joachim Horn (Founder and CEO of SAM Labs)
SAM is delighted to win the Gold medal in the Educational Games category for the Independent Toy Awards. This truly marks an incredible starting point for us after growing from Kickstarter less than two years ago. SAM (samlabs.com) hopes to empower youngsters around the world to unleash their creativity. This award authenticates that and really proves that we're on our way to making that happen!