Carlisle Toy Shops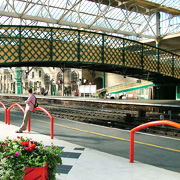 On the edge of the Lake District, Carlisle in Cumbria is the administrative centre for the region. The Lanes Shopping Centre is a wonderful combination of modern and old and has in the region of forty five retail outlets for shoppers to choose from.
The Eden Centre area has a great selection of market stalls of all types. Carlisle toy shops are the familiar mix of multiple groups and some interesting independents shops selling a good mix of toys, hobbies, games, dolls and soft toys. Games Workshop and Hawkin's Bazaar both provide an appealing mix of products.
FEATURED RETAILERS

Online retailer of traditional style children's soft and wooden toys.
Read more about Gifts For Little Ones >>
POPULAR RETAILERS
42 Lowther Street, Carlisle, Cumbria, CA3‎
0845 165 7181‎
46-48 Castle Street, Carlisle, Cumbria, CA3 8JA‎
01228 548601‎
Earl Street, Carlisle, Cumbria, CA1 1DP
01228 598216‎
Unit 49 The Market Hall, Scotch Street, Carlisle, Cumbria, CA3 8QX
07922 335786
72 Greystone Road, Carlisle, Cumbria, CA1 2DD
07738 230949
St.Nicholas Gate, London Road, Carlisle, Cumbria, CA1 2EA
OTHER RETAILERS
Carlisle Toys & Hobbies

46 Lowther Street, Carlisle, Cumbria, CA3 8DP
01228 590369
Gamestation

67 English Street, Carlisle, Cumbria, CA3 8JU
01228 547875‎