The BTHA Toy Industry Day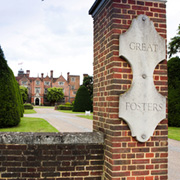 The 2015 Toy Industry Day
The latest Toy Industry Day took place on 6 June 2015 and saw presentations from a fascinating collection of speakers including toy inventor Bruce Lund, paralympian Talan Skeels Piggins and Practicology's Jeremy Wilson. One of the day's highlights was the presentation of a Lifetime Achievement Award to The Entertainer's Gary Grant.
About the 2014 Toy Industry Day
Organised by the British Toy & Hobby Association (BTHA) and held on an annual basis, the 2014 Toy Industry Day took place at the Great Fosters Hotel in Surrey on 5 June.
Starting with the BTHA Annual General Meeting, the event included the handing over of the BTHA chairmanship from Frank Martin to Phil Ratcliffe. The full line-up now looks like this:
Chairman: Phil Ratcliffe from MV Sports
Vice Chairman: Jon Diver from Character Options
President: Kevin Jones from Spin Master
Vice President: Christine Nicholls from Golden Bear
Meanwhile, an Outstanding Contribution award from The Toy Trust was awarded to Nick Austin, the Chairman and Co-Founder at Vivid.
Keynote speakers were
Tony Stockil (CEO, Javelin Group)
Dr Aric Sigman (Psychologist)
Philip Hesketh (Motivational Speaker)
About the day
The event is open to all members of all BTHA members as well as toy licensors, retailers or other bodies associated with the toy industry. As well as an opportunity to hear presentations from highly qualified speakers, the event allows time for it to be a useful networking opportunity with like-minded individuals within the toy industry.