Lifetime Achievement Award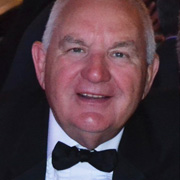 2017 BTHA Lifetime Achievement Award Winner: Roger Dyson
On 26 January 2017 it was announced that Roger Dyson, a man who has given the trade more than 50 years. He was officially honoured in a ceremony at the Toy Industry Day on 28 June 2017.
2016 BTHA Lifetime Achievement Award Winners: Character Group founders
The four founding members of the Character Group - Richard King, Kiran Shah, Joe Kissane and Jon Diver - were all awarded for their hard work and dedication to the toy industry over the years.
2014 BTHA Lifetime Achievement Award Winner: Gary Grant
It was announced on August 28th 2014 that Gary Grant, the charismatic owner of the independent Entertainer toy shop chain, was to receive a prestigious Lifetime Achievement Award. Gary said; "This is amazing and it is such an honour that the toy industry would recognise me in this way. I've loved every minute of my working life, but could not have imagined 33 years ago, that I would be seen to deserve such a prestigious award."
2012 BTHA Lifetime Achievement Award Winners: Nick Austin and Alan Bennie
On 20th June at BTHA's Industry Day, Vivid bosses Nick and Alan both received their awards in recognition of their incredible success in turning Vivid into one of the UK's top 5 toy companies. The awards were presented by the BTHA Chairman, Frank Martin.
2011 BTHA Lifetime Achievement Award Winner: Peter Brown
Peter was awarded for his outstanding contribution to many toy companies including Tomy, K'nex and Flair. He was also recognised for a valuable contribution to the British Toy and Hobby Association and the Toy Trust.
About the Lifetime Achievement Awards
The toy industry Lifetime Achievement Awards were first presented in 1996 by the British Toy and Hobby Association. Their purpose was to honour and recognise individuals for their outstanding achievements during their working life in the toy industry. A beautiful cast bronze sculpture designed by international sculptor Ronald Cameron is presented to each recipient.
Most of the awards are presented to characters that are still working or recently retired, although a notable exception was the 2009 award to Walter Lines, who died in 1972 aged 90. He was one of the original 'Lines Brothers' who formed Tri-ang Toys just after the end of WW1, and the award was accepted by his son Graeme.
Other famous recipients include Ole Kirk Christiansen (the founder of LEGO) and Frank Hornby who was was posthumously given the award for his visionary creation of Meccano, Hornby Railways and Dinky Toys.
Other Winners
2010: Alan Munn
2009: Walter Lines
2007: John Hales, Christine Nicholls & Hilary Page
2006: Frank Hornby & Ian Scott
2005: David Rurka & Phil Shayer