Children's Jigsaw Puzzles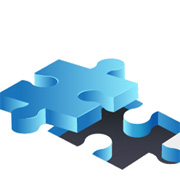 Children's jigsaw puzzles were originally made by painting a picture onto a piece of wood, and then cutting the picture into smaller pieces using a tool known as a "jigsaw". In 1760, John Spilsbury, who was a London-based mapmaker, is credited with making the first commercially available jigsaw puzzles. The latest production methods and accurate machinery means that cuts are cleaner, shapes are sharper, and printing is clearer than ever.
In order for these puzzles to be reasonably priced, most mass produced ones are made of rigid cardboard. They come in all shapes and sizes – square, rectangular, round, and even 3D ball shaped plastic puzzles made by Ravensburger. For the junior members of the family, chunky wooden puzzles in the shape of animals or people are very popular.
The very young are catered for with very simple 2 piece jigsaws whereas the experts are challenged by a massive 18,000 piece set! Another innovation has been the introduction of special shapes into the traditional format, and children love picking out the outline of an elephant, a tree or the moon as an added enjoyment factor. Jigsaw libraries have been set up in many towns, and many people find the challenge of completing a difficult puzzle both stimulating and relaxing.
FEATURED RETAILERS

The world's most famous online retailer sells an unparalleled selection of toys.
Visit Amazon Now >>

The original catalogue shop now sells a huge range of toys at great prices.
Visit Argos Now >>

Huge choice of jigsaws for babies, children or a seasoned jigsaw fanatic.
Visit All Jigsaw Puzzles Now >>

The highest quality toys and games in one easy-to-use online store.
Visit PDK Toy Shop Now >>

Huge choice of jigsaws with suppliers including Gibsons and Orchard Toys.
Visit The Yorkshire Jigsaw Store Now >>
POPULAR SUPPLIERS

OTHER RETAILERS