Jigsaw Puzzles for Babies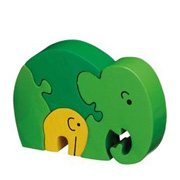 Nothing can be more fun for infants and very young kids than making their very first jigsaw puzzle. It must seem quite daunting for a one year old to be given a puzzle with just two or three pieces, but at this age they are starting to recognise colours and shapes, and with a little help from their mum or dad they can soon master the skills needed to complete it.
Chunky wooden pieces that make the shape of an animal, object or person are a great way to introduce jigsaw puzzles to babies, and with their rounded edges and safe to chew colours they're a perfect way to start an interest in a hobby that can often last a lifetime. The next stage is tray or peg puzzles. These have pre-printed shapes in the outline of a vehicle, house or other object, and the baby has to match the shape into the correct place on the board. Once they've mastered this, try turning the jigsaw upside down for an extra challenge.
Some popular puzzle makers for babies include Orange Tree Toys, Lanka Kade, Branching Out, Galt or Orchard Toys, and whilst most of them use wood as the primary jigsaw material, very tough laminated card is often also used. Interlocking series of numbers or alphabet are a great way for babies to start to learn their ABC, and when combined with bright stimulating colours, learning becomes so much more fun. Buying jigsaw puzzles for babies is a great way to teach them so many skills like recognising shape, colour and dexterity.
FEATURED RETAILERS

The world's most famous online retailer sells an unparalleled selection of toys.
Visit Amazon Now >>

Huge choice of jigsaws for babies, children or a seasoned jigsaw fanatic.
Visit All Jigsaw Puzzles Now >>