Little Charley Bear Toys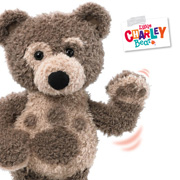 About Little Charley Bear
Little Charley Bear is making waves in the preschool sector with his massively popular animated series on CBeebies. Created by Chapman Entertainment, the 5 year old star of the show (voiced by the British comic actor, James Corden) is a cheeky and impertinent little teddy bear, who through his wonderful adventures helps little children up to 4 years old use their imagination and be transported to another dream world.
Master Toy Licensee
Well known toy distributor, Vivid, has produced a whole range of Little Charley Bear toys including Charley's Aeroplane and the Guess and Spin board game. Several soft toys of Charley include a feature plush with nodding, dancing and waving action. Children should also look out for toys of the other main characters in the show such as Rivit the Robot, Caramel the Cow and Bellarina the Ballerina.
Furniture and Nightwear
Worlds Apart have been appointed the licensee for a whole range of Little Charley Bear branded furniture such as toy boxes, desks and stools. These will be accompanied by other toys like inflatable chairs, 'Ready Beds', ball pits, pop-up tents and even an interactive electronic mat. Meanwhile, Blues Clothing will produce Little Charley Bear apparel such as hoodies, t-shirts and jackets - and Aykroyds/TDP Licensing Limited will produce underwear and nightwear for children up to four years old.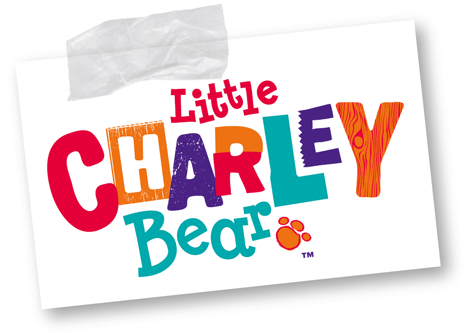 Ride-On Toys
MV Sports and Leisure make a series of wheeled toys using the Little Charley Bear licence. Products include skates, bikes, trikes, baby walkers and ride-on toys. Meanwhile, Mondo have agreed to manufacture a range of kids hoppers and playballs.
Story Books and Magazines
Ladybird books have published some titles to tie in with the launch of Little Charley Bear. These include a novelty book named "Little Library", a book full of sounds called "Who are you Today Charley Bear?", as well as some story books with hard board covers. In addition, wrapping paper and greeting cards are produced by Danilo Productions, and Redan Publishing include Little Charley Bear branded pages in its Fun To Learn preschool magazines
Other Merchandise
As if that wasn't enough licences from one little bear to deal with, William Lamb Footwear were confirmed as the producer of trainers, slippers, wellingtons and jelly shoes - and International Greetings launched a series of Little Charley Bear poster kits, colouring wheels and chunky crayons. Furthermore, Vogue International produce some Little Charley Bear branded lunch bags, spinning fun straws, cutlery sets and other houseware lines. Fine Decor also announced that they are producing ranges of Little Charley Bear themed wallcoverings.
HERO PRODUCTS
RECOMMENDED CATEGORIES

Character toys are popular as TV series and films attract spin-off products.
Visit the Character category >>

Find traditional stuffed animals and plush toys fitted with electronics here.
Visit the Soft category >>

Almost everyone must have owned a teddy bear at some time in their lives.
Visit the Teddy Bears category >>