Kids Dressing Up & Fancy Dress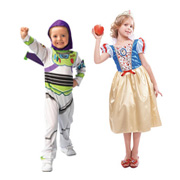 Kids donít always want to just play with action figures, superheroes and princesses. Sometimes they want to be them too! This is where dressing up costumes really come into their own. They provide all the incentive needed to encourage children to let their imaginations run wild and experience the world as the character of their dreams.
Dressing up outfits encourage children to begin experimenting with different personas. This in turn can help to build confidence in different situations and scenarios. Whether your child wants to escape into the world of pirates, firefighting, mermaids or superheroes, costumes provide the perfect role-play experience that they can be enjoyed over and over again.
Smiffys and Rubies Masquerade are two of the biggest suppliers, and most of their outfits can be enjoyed all year round, both indoors and outside. Popular accessories include wigs, hats, make-up, glitter or fairy wings. In fact the list is almost endless! If your little one wants to be their favourite TV or film character, thereís almost certainly an outfit to suit them.
FEATURED RETAILERS

The world's most famous online retailer sells an unparalleled selection of toys.
Visit Amazon Now >>

This Lincolnshire-based online retailer specialises in fancy dress, wigs and costume accessories.
Visit Fancy Dress Direct Now >>
Narrow your results: browse within Dressing Up:
Fairy Toys
.
OTHER RETAILERS