Online Joke Shops for Kids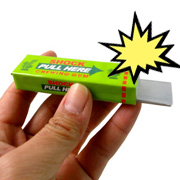 Floating eyeballs, chattering teeth, severed fingers... just name the body part and someone with impeccably bad taste has probably made a joke item for it. It's not just the human anatomy that suffers the comedy treatment though. Funny glasses, amusing bow ties and hilarious boxer shorts are all items that you can find at the best (or should we say worst?) joke shops in the country.
With the British being renowned for their eccentric sense of humour, it's no great surprise that all manner of cheeky, disrespectful and downright uncouth items can be bought from High Streets up and down the land. Every major city in the country has a joke shop where you'll be able to stock up on pepper sweets, sneezing powder and exploding chewing gum.
Of course, the internet only helps these shops peddle their disgraceful products more easily than ever before, and we're all in favour of it. Browse just a handful of the nation's online joke shops and within seconds you'll be riffling through pages of farting whoopie cushions, fishy sweets and electric-shock buzzy hand things that will give your mates the fright of their lives.
None of these items are intended to be used with any real malice of course. If you can't find humour in discovering a pretend dog poo in your bed, a stink bomb being let off right under your nose or itching powder being put down your underpants, then please whatever you do. don't visit any of our all-time favourite joke shops. We've listed some below for your grisly delight.
FEATURED RETAILERS

The world's most famous online retailer sells an unparalleled selection of toys.
Visit Amazon Now >>
OTHER RETAILERS