Children's Role Play Toys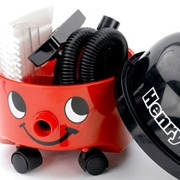 Every little girl or boy wants to copy their mummy or daddy which is all part of their growing up experience. There are plenty of make believe toys to choose from to improve this understanding, whether itís a pretend kitchen, a junior tool box, a cash register or a vacuum cleaner.
Lots of popular toy suppliers recognise the importance of these types of toys and thereís no shortage of products made in both plastic and wood. British company Casdon has virtually built their business on selling these products, and they now produce an impressive range of toy money, pots and pans, grocery sets, irons, cookers, and mixers.
Other suppliers make large childrenís kitchens, shopping trolleys, workbenches, market stalls and even petrol pumps. Junior mechanics, chefs and doctors all love the great choice of role play toys that are available, and the whole experience can be enhanced with some great dressing up costumes.
FEATURED RETAILERS

The world's most famous online retailer sells an unparalleled selection of toys.
Visit Amazon Now >>

An independent and family run online business selling indoor and outdoor toys.
Visit Cheeky Monkeys Now >>
Narrow your results: browse within Role Play:
BBQs
,
Cash Registers
,
Cookers
,
Food Mixers
,
Ironing Boards
,
Kettles
,
Kitchens
,
Lawnmowers
,
Microwaves
,
Play Food
,
Play Shops
,
Shopping Trolleys
,
Supermarkets
,
Toasters
,
Vacuum Cleaners
,
Washing Machines
,
Workbenches
.
OTHER RETAILERS