Children's Toy Food Mixers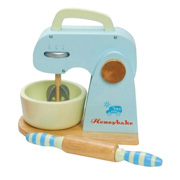 All parents know that children love to copy them as they do the cooking and housekeeping. The kitchen often holds the greatest attraction as thatís where the food comes from. Itís no wonder that so many role play toys feature kitchen implements and gadgets with food mixers and food processors being some of the most popular.
Whilst these childrenís toy kitchen machines are often made in plastic, Le Toy Van have a charming mixer made of wood and contained in a set complete with pretend cakes and cake stand. Kidkraft make theirs in wood too, and with soft pastel colours itís very appealing to all budding young chefs. The masters of using recycled plastic are Kriya, and their toy food mixers are practical and excellent value for money.
Theo Klein and Santoys include toy food mixers and processors in their large role play toy ranges. Some models have battery operated motors for realistic action so that kids can mix their own cakes whilst leaving mum to get on with the real baking! Casdon even make a replica Kenwood Mixer with two speeds, as well as including a beater, spatula and whisk in the set.
FEATURED RETAILERS

The world's most famous online retailer sells an unparalleled selection of toys.
Visit Amazon Now >>
Other categories in our
Role Play
section:
BBQs
,
Cash Registers
,
Cookers
,
Ironing Boards
,
Kettles
,
Kitchens
,
Lawnmowers
,
Microwaves
,
Play Food
,
Play Shops
,
Shopping Trolleys
,
Supermarkets
,
Toasters
,
Vacuum Cleaners
,
Washing Machines
,
Workbenches
.