Toy Washing Machines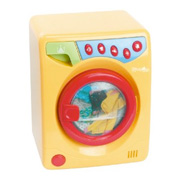 Some toy washing machines look almost as realistic as the real thing, with Theo Klein making a superb miniature version of the Electrolux model, and Casdon opting for a Hotpoint replica. Supplied with a two speed spinning clothes drum, pretend washing powder and plenty of buttons to keep the kids amused, there's no doubt that these role play toys hold considerable fascination for both little boys and girls.
Plan Toys, Pintoy, Wonderworld and Santoys are just two makers of some superb wooden models. Heavy and stable with working parts, they can take the rough and tough knocks that we all know children can give their toys at times. Often having a pretend soap dispenser tray as well as control knobs, these models are really popular toys, especially when combined with cookers, fridges and microwave ovens.
All children love pretending to behave like mum and dad, and once the clean clothes have been taken out of the toy washing machine, they can be hung up to dry on a play rotary clothes line. Parents can buy their kids almost any household appliance in a miniature version, and even Sylvanian Families have tiny washing machines in some of their animal playsets.
FEATURED RETAILERS

The world's most famous online retailer sells an unparalleled selection of toys.
Visit Amazon Now >>
Other categories in our
Role Play
section:
BBQs
,
Cash Registers
,
Cookers
,
Food Mixers
,
Ironing Boards
,
Kettles
,
Kitchens
,
Lawnmowers
,
Microwaves
,
Play Food
,
Play Shops
,
Shopping Trolleys
,
Supermarkets
,
Toasters
,
Vacuum Cleaners
,
Workbenches
.