Toy Cookers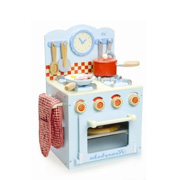 Tradition suggests that little girls love to do the cooking and shopping, but even at a young age the modern male loves doing both these activities as much as his female counterparts, especially when it comes to homemade pesto.
If kids want a toy cooker to play with, parents are completely spoilt for choice with dozens at price points to match any budget, however big or small. Companies like Pintoy, Wonderworld, Kidkraft, Le Toy Van and John Crane are fantastic at designing and making a selection of wooden toy cookers and stoves that fulfil the most demanding role play activities.
With pretend ovens, gas or electric hobs and a selection of knobs and buttons to press and twirl, these toy cookers represent excellent value for money. Electronics play a big part in most household products, and many of the kids toy ovens and ranges have a variety of lights and sounds to enhance the fun during play. Open the oven and the light comes on, or cook up some bacon and get some real sizzling sounds! Casdon, Smoby and Little Tikes all make some terrific models to satisfy the demanding little chefs.
No toy cooker or hob would be complete without a range of pots, saucepans, cooking utensils and roasting dishes to help prepare for the ultimate pretend meal, and plenty of different versions can be found in the UK's popular traditional and online toy shops. Add in some children-size aprons and toy padded oven gloves, and the scene is set for a great pretend cooking party!
FEATURED RETAILERS

The world's most famous online retailer sells an unparalleled selection of toys.
Visit Amazon Now >>
Other categories in our
Role Play
section:
BBQs
,
Cash Registers
,
Food Mixers
,
Ironing Boards
,
Kettles
,
Kitchens
,
Lawnmowers
,
Microwaves
,
Play Food
,
Play Shops
,
Shopping Trolleys
,
Supermarkets
,
Toasters
,
Vacuum Cleaners
,
Washing Machines
,
Workbenches
.