Children's Toy Workbenches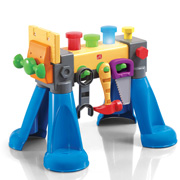 Young boys, and many girls too, love nothing more than building their own creations, and a toy workbench is the perfect role play product to help them construct, fix and occasionally take apart their mini-masterpieces. Toy workbenches fall into two main categories.
Companies like Pintoy produce some charming wooden versions complete with sturdy wooden tools such as a hammer, saw and screwdriver. On the flipside, companies like Klein and Smoby make incredibly realistic replica models that look very much like the full size adult version! Some even come complete with clattering sound effects, mechanics helmets and realistic drilling noises!
Apart from just being great fun, role play workbenches are an absolutely perfect way to encourage your child to use their imagination and creativity. They help children to develop an inquisitive nature and to solve problems by themselves. They complement other role play toys brilliantly well, so don't be too surprised when you child wants to expand their collection with a play drill, chainsaw or even an angle grinder!
FEATURED RETAILERS

The world's most famous online retailer sells an unparalleled selection of toys.
Visit Amazon Now >>
Other categories in our
Role Play
section:
BBQs
,
Cash Registers
,
Cookers
,
Food Mixers
,
Ironing Boards
,
Kettles
,
Kitchens
,
Lawnmowers
,
Microwaves
,
Play Food
,
Play Shops
,
Shopping Trolleys
,
Supermarkets
,
Toasters
,
Vacuum Cleaners
,
Washing Machines
.