Children's Science Toys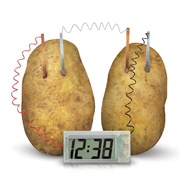 In the 1950s and 1960s every young boy wanted a chemistry set. They could use them to perform many different experiments, but they were rather limited in scope. Now however, girls are as interested as boys in this fascinating subject as modern science kits are so much more fun, as well as being very useful educational tools.
Kids can get explosive with a volcano making kit, or learn how to create electrical circuits with lights, sound and action. Models of the solar system or crystal mining sets all contribute to a childís understanding of the world around them, and an ant farm or worm world is always a popular purchase as long as itís well sealed!
Companies like John Adams and Wow Stuff have large science toy ranges within their product portfolios, whilst companies like Trends UK have built a substantial business based predominantly on these educational toys. Parents can even buy products that focus on astrology, anatomy, robotics, electricity, physics or biology.
FEATURED RETAILERS

The world's most famous online retailer sells an unparalleled selection of toys.
Visit Amazon Now >>

Online retailer of creative, educational, wooden and activity toys.
Visit Crafts 4 Kids Now >>
POPULAR SUPPLIERS
OTHER RETAILERS