Personalised Toys & Gifts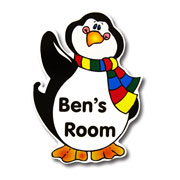 Children just love having their very own name on something they own, and this popular idea is catered for with many different personalised toys, gifts and other products. Whether itís t-shirts, pictures, mugs or toys thereís hundreds of these products available for parents and friends to buy their kids. With modern engraving techniques itís also easy for suppliers to apply any name to a big variety of wooden toy products.
Several manufacturers make most popular names on jigsaws available from stock, and can quickly make a version for any name in the world! A bedroom door is a great place for kids to have their own name. Sometimes this is made up of separate alphabet letters, or a name plaque that may be accompanied by other messages such as Ďkeep outí!
Pens, pencils, height charts, and coat pegs are all really popular gifts, and grandparents love the choices of custom-made gifts that are available to buy for a babyís christening. Mugs are especially popular, together with serviette rings and pendants or even individually named toy boxes.
FEATURED RETAILERS

This family-run business specialises in personalised wooden toys and gifts.
Visit Hometime Crafts Now >>
OTHER RETAILERS