Top Toys for Christmas 2018
No comments yet. Be the first.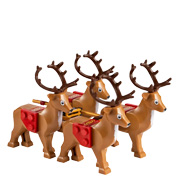 When you consider that toy retailers live and die by their ability to predict what will fire the imaginations of children at Christmas time, it's no great surprise that toy predictions have become something of an industry institution.
These "Top Toy" lists generate plenty of column inches for the industry - and whilst many of them are painfully transparent, there's always a few gems that warrant a closer look.
Argos was the first retailer to announce their 2018 Christmas predictions on the uncomfortably early date of 7th June. This doesn't quite pip Tesco's record though... In 2011 they announced theirs on 6th June!
SMYTHS ANNOUNCES ITS CHRISTMAS TOY PREDICTIONS

The Winners (announced 1st October)
"We are very excited about our unique selection of this year's hottest toys for the Christmas period" says the head of marketing at Smyths. The list certainly contains some products we haven't seen in other retailers' lists this year, although it also features some the products for which there seems to be general concensus such as Boxer, LOL Surprise and NERF.
Spy Code - Operation Escape
Our Generation Awesome Academy School Room
Poopsie Unicorn Slime Surprise
L.O.L. Surprise! Eye Spy Under Wraps
NERF Laser Ops AlphaPoint Blaster 2-Pack
Barbie Dreamhouse Playset
Fingerlings Interactive Baby Dragon Sandy
PonyCycle Unicorn Ride On
Fisher Price Dance & Groove Rockit
Treasure X Single Pack
Paw Patrol Ultimate Fire Truck Playset
Robot - Boxer
Jurassic World Grab 'N Growl Indoraptor Dinosaur
So Bomb DIY Bath Bomb Factory
LEGO Harry Potter Hogwarts Great Hall Toy
MOTHERCARE'S TOP CHRISTMAS TOYS

The Winners (announced 27th September)
With prices ranging from £25 to £160, Mothercare's choice of top Christmas toys has something to suit all budgets. The list includes a mix of retro inspired items as well as higher-tech products such as VTech's First Steps Baby Walker.
Retro Diner Kitchen (£160)
Happyland Farm (£40)
Little Senses Activity Table (£50)
Teddy's Toy Box Luxury Playmat and Arch (£55)
Big City Wooden Garage (£60)
Deluxe Rosebud House (£120)
Cash Register (£25)
Micro Scooter Mini Micro 3 in 1 Deluxe (£110)
Bosch Workbench (£70)
VTech First Steps Baby Walker (£25)
VERY'S TOP TEN TOYS FOR CHRISTMAS

The Winners (announced 26th September)
Some of Very's top toy choices could easily have been from last year, although they do boast some of the highest tickets items chosen by any other UK retailer so far.
Cozmo Robot (£179.99)
My Lovely Unicorn (£229.99)
Stretch Armstrong (£19.99)
Poopsie Unicorn Slime Surprise (£49.99)
Baby Annabell (£49.99)
Hatchimals Mystery Egg (£49.99)
Pomsies (£17.99)
Rollie My Kissing Puppy (£54.99)
L.O.L Surprise! Under Wraps Dolls (£14.99)
Monopoly: Cheaters Edition Board Game (£21.99)
HAMLEYS' TOP TOYS FOR CHRISTMAS

The Winners (announced 27th September)
"Imperfectionalism" is the buzz word this year according to the world's most famous toy store, Hamleys. Needy robots, odd looking dolls and mis-matched creatures all feature in their list of Christmas toy predictions.
Crate Creatures
Boxer Robot
L.O.L. Surprise! Eye Spy Under Wraps Doll Assortment
Hairdorables Assortment
Ty Sequin Flippables
Elasti Plasti
GraviTrax Starter Pack
Nerf Laser Ops Pro Alphapoint 2 Pack
LEGO Harry Potter Hogwarts Express
Peppa Castle and Royal Guard Plush
Cuddly Paddington
Monopoly Cheaters Edition
AMAZON.CO.UK ANNOUNCES ITS TOP TOYS FOR CHRISTMAS

The Winners (announced 18th September)
Amazon's 2018 Christmas toy list contains some familiar products from household name companies like LEGO and Mattel. It also features two of this year's biggest playground crazes, unicorns and slime, and even one product that combines the two!
Paw Patrol Ultimate Rescue Fire Truck (£69.99)
Boxer (£79.99)
Barbie Careers Care Clinic Ambulance (£37.49)
Nerf Laser Ops Pro Alphapoint (£44.78)
Poopsie Slime Surprise Unicorn (£49.99)
Strictly Come Dancing Board Game (£28.88)
LEGO Harry Potter Hogwarts Express Train (£73.99)
Little Live Pets Una Wrapples (£16.99)
Chow Crown Price (£21.99)
L.O.L. Surprise! Bigger Surprise! (£84.99)
JOHN LEWIS'S TOP 10 CHRISTMAS TOYS

The Winners (announced 3rd September)
Harry Boughton, John Lewis's head toy buyer, thinks he's spotted a trend towards toys that encourage children to move away from screens - and that's reflected in this famous retailer's toy predictions.
Ranging from products like the I-Top with a price-tag of under £15, all the way up to a LEGO Bugatti car coming in at a whopping £329, there's certaining something here to suit all budgets.
I-Top (£14.99)
Nerf Laser Alpha (£29.99)
LEGO Technics Bugatti Chiron (£329.99)
Furreal Ricky The Trick Lovin' Pup (£134.99)
LEGO DUPLO Cargo Train (£99.99)
GraviTrax (£49.99)
Tech Will Save Us Coder Kit (£54.99)
John Lewis My First Scooter (£49.99)
Mini Waitrose Supermarket (£45.00)
Mini John Lewis Kitchen (£59.00)
ARGOS PICKS THEIR FAVOURITES

The Winners (announced 7th June)
First out of the blocks again, Argos's top Christmas toy list for 2018 is an attempt to gauge what will be on the top of children's wish lists in the run up to Christmas Day.
The list has been designed to "bring fantasy, technology, construction and discovery to toyboxes nationwide". Two of last year's biggest sellers - Fingerlings and LOL Surprise - make a welcome return with new offerings, whilst the beady eyed among you will notice no less than three unicorn-themed products, tapping nicely into the huge unicorn-craze that has swept the nation this year.
Fingerlings Untamed T-Rex
Vtech Fantasy Unicorn
Fingerlings Untamed Dino Cage
Paw Patrol Rescue Fire Truck Playset
Nerf Laser Ops Two-Pack
LEGO City Arctic Mobile Exploration Base
Fingerlings Hugs
Boxer
LOL Surprise Under Wraps
Treasure X 3-Pack Chest
Poopsie Unicorn Surprise
My Lovely Unicorn Electric Ride-On
Chad Valley Tiny Treasures Doll