Top Toys for Christmas 2019
No comments yet. Be the first.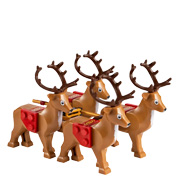 When you consider that toy retailers live and die by their ability to predict what will fire the imaginations of children at Christmas time, it's no great surprise that toy predictions have become something of an industry institution.
These "Top Toy" lists generate plenty of column inches for the industry - and whilst many of them are painfully transparent, there's always a few gems that warrant a closer look.
Argos was the first retailer to announce their 2019 Christmas predictions on the uncomfortably early date of 7th June. This doesn't quite pip Tesco's record though... In 2011 they announced theirs on 6th June!
SMYTHS ANNOUNCES ITS CHRISTMAS TOY PREDICTIONS

The Winners (announced 7th October)
"With all of the fantastic new toys launched this year it was really difficult to pick a top ten but we got there" said Sinead Byrne, joint head of marketing at Smyths Toys. She also went to say "Forky, Cubby and Boppi have stolen our hearts this year and we are super excited for the Frozen Arendelle Castle that has just launched".
FurReal Cubby the Curious Bear by Hasbro
Paw Patrol Super Paws Mighty Jet Command Centre by Spin Master
Lego Harry Potter The Knight Bus by LEGO
Boppi the Booty Shakin' Llama by Zuru/Tobar
L.O.L Surprise! 2-in-1 Glamper Playset by MGA
Ryan's World Giant Mystery Egg by Vivid
Barbie Travel DreamPlane by Mattel
Nerf Fortnite AR-E by Hasbro
Push n Talk Forky by Thinkway
Frozen 2 Arendelle Castle by Hasbro
HAMLEYS' TOP TOYS FOR CHRISTMAS

The Winners (announced 27th September)
Hamley's coveted line-up features classic games, dolls, playhouses and fluffy friends, but also includes high-tech options – with one even teaching pre-schoolers how to code.
Scruff-a-Luv's My Real Rescue
Coding Critters
Pictionary Air
Smart Pixelator
LOL Surprise Chalet Dollhouse
Nerf Fortnight RL
Poopsie Surprise Dolls
Oblique Drifter
Lego Hidden Side, Paranormal Bus 3,000
Linkimals, Smooth Moves Sloth
JOHN LEWIS'S TOP 10 CHRISTMAS TOYS

The Winners (announced 4th September)
Harry Boughton, John Lewis's head toy buyer, explained that the company was making a conscious move away from products like slime and collectables in favour of more sustainable toys with great play value - and their Christmas wish list really reflects that.
Mini Kitchen
50-piece wooden train set (£30)
Osmo Little Genius Starter Kit (£79.99)
Folding Scooter (£69.99)
Tonies Start Box (£69.95)
Unicorn pull-along (£15)
Little Robin Red Vest book (£11.99)
Ravensburger's Gravitrax Starter Set XXL (£99.99)
LEGO Rocket Assembly and Transport Space Port (£119.99)
Leckford Doll's House (£100)

AMAZON'S TOP TOY TRENDS

The Winners (announced 1st August)
For their 2019 Christmas predictions, Amazon steared clear of a specific list and opted to identify some of the broader ranging trends that they think kids are going to want to explore this year.
Innovation in games
Pictionary Air
Evolution of Electronic Toys
Owleez
Juno My Baby Elephant
Boppi The Booty Shakin' Llama
Unboxing 2.0
L.O.L Surpise! Glamper Fashion Camper
Blume Series Surprise Doll
Toys Inspired by cult family franchises
Harry Potter Dobble
Pre-School Sensory Play
Linkimals Happy Shapes Hedgehog
ARGOS PICKS THEIR FAVOURITES

The Winners (announced 7th June)
First out of the blocks again, Argos's top Christmas toy list for 2019 is an attempt to gauge what will be on the top of children's wish lists in the run up to Christmas Day.
The list comes as Argos research reveals a quarter of Brits have already started their Christmas shopping and just under 10% have even finished their festive gift buying!
Walking Buzz Lightyear (£35)
Fornite Battle Bus (£40)
LEGO Harry Potter Night Bus (£35)
Pets Alive Robotic Llama (£25)
Blume Doll (£10)
Fisher Price Transforming Batmobile (£100)
Furreal Cubby Bear (£80)
Kindi Kids, Toddler Dolls (£25)
LOL Surprise! 2-in-1 Glamper (£100)
Owleez (£50)
Paw Patrol Mighty Pups Super Paw Jet (£60)
Peppa Pig Playset (£40)