Top Toys for Christmas 2023
No comments yet. Be the first.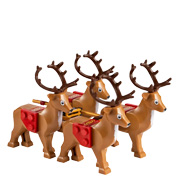 When you consider that toy retailers live and die by their ability to predict what will fire the imaginations of children at Christmas time, it's no great surprise that toy predictions have become something of an industry institution.
These "Top Toy" lists generate plenty of column inches for the industry - and whilst many of them are painfully transparent, there's always a few gems that warrant a closer look. Every year the lists seem to be released earlier and earlier, although no-one has yet beaten Tesco who in 2011 announced their recommendations on 6th June!

The Winners (Announced 19th October)
The Entertainer's top Christmas toy list was introduced as being jam-packed with gifts for children of all ages.
Bitzee Digital Interactive Pet
Fuggler FuggGlow Soft Toy
Disney Stitch Squishmallow
Twister Air
Out To Impress Loom Band Craft Kit
Paw Patrol Mighty Movie Pup Squad Aircraft Carrier
Hot Wheels Corkscrew Twist Playset
Pets Alive Fifi the Flossing Sloth Electronic Pet
Barbie Dream Boat Playset
RainBocorns: Fairycorn Surprise! Mystery Egg
LEGO Star Wars Spider Tank
Happyland London Bus
HAMLEYS' TOP TOYS FOR CHRISTMAS

The Winners (announced 21st September)
Hamley's 2023 top toy list is full of hot properties like LOL Surprise, Barbie and the evergreen licence, Harry Potter. The list was designed to reflect the cost-of-living crisis by including a lot of pricing options. It was also made to play into the current Kidult trend, although interestingly, no LEGO product made the list this year.
Barbie Pop Reveal Fruit Series
LOL Surprise Magic Flyers
Ty Marvel Squish-A-Boos
Harry Potter Bears
Beast Lab
Magic Moving Car
Disney Winnie & Piglet's Treehouse
Wooden Bus
Paw Patrol Skye Deluxe Vehicle
Twister Air
ARGOS PICKS THEIR FAVOURITES

The Winners (announced 15th September)
Half of Argos's top toy list come in at under £30 to reflect the cost-of-living crisis that is affecting families this year. Head toy buyer Fay Williams said of the list "as well as the incredible innovation in the industry it's wonderful to see nostalgic brands like Furby, Barbie and LEGO loved by a new generation".
Beast Lab
Miniverse Diner
Squishmallows Drew the Dragon
Fingerlings Monkey
332nd Ahsoka's Clone Trooper Battle Pack
Harry Potter Dobby the House Elf
Bitzee Interactive Pet
TMNT Pizza Fire Delivery Van
NerfElite Double Punch
Technic Lamborghini Huracan
Furby
Little Live Pets My Puppy's Home Dalmation Edition
Gabby's Dollhouse Cruise Ship
Barbie Wow House
Chad Valley Trevor T-Rex
Chad Valley Pizza
Chad Valley 2-in-1 Wooden Cafe
Chad Valley Connie Designer Fashion Doll