Top Toys for Christmas 2018
No comments yet. Be the first.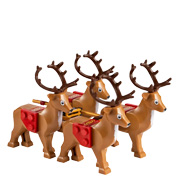 When you consider that toy retailers live and die by their ability to predict what will fire the imaginations of children at Christmas time, it's no great surprise that toy predictions have become something of an industry institution.
These "Top Toy" lists generate plenty of column inches for the industry - and whilst many of them are painfully transparent, there's always a few gems that warrant a closer look.
Argos was the first retailer to announce their 2018 Christmas predictions on the uncomfortably early date of 7th June. This doesn't quite pip Tesco's record though... In 2011 they announced theirs on 6th June!
ARGOS PICKS THEIR FAVOURITES

The Winners (announced 7th June)
First out of the blocks again, Argos's top Christmas toy list for 2018 is an attempt to gauge what will be on the top of children's wish lists in the run up to Christmas Day.
The list has been designed to "bring fantasy, technology, construction and discovery to toyboxes nationwide". Two of last year's biggest sellers - Fingerlings and LOL Surprise - make a welcome return with new offerings, whilst the beady eyed among you will notice no less than three unicorn-themed products, tapping nicely into the huge unicorn-craze that has swept the nation this year.
Fingerlings Untamed T-Rex
Vtech Fantasy Unicorn
Fingerlings Untamed Dino Cage
Paw Patrol Rescue Fire Truck Playset
Nerf Laser Ops Two-Pack
LEGO City Arctic Mobile Exploration Base
Fingerlings Hugs
Boxer
LOL Surprise Under Wraps
Treasure X 3-Pack Chest
Poopsie Unicorn Surprise
My Lovely Unicorn Electric Ride-On
Chad Valley Tiny Treasures Doll