Junior Trampolines for Children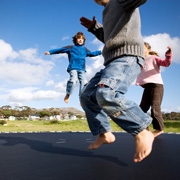 The very first modern trampoline was designed in the 1930s by two gymnastic enthusiasts called Larry Griswold and George Nissen. Children's models have very obvious health benefits, and even toddlers are encouraged to get bouncing at quite an early age on the small indoor versions with supporting handles.
There are dozens of different suppliers and makers, with TP Activity Toys, Plum Products, MV Sports, Supertramp and Jumpking being amongst the best known. Some of the most popular models are the round versions of varying diameters. With important safety precautions to consider, parents are advised to invest in one with a safety enclosure to help prevent kids falling off. Safety pads, ladders and even tents can be added to trampolines for extra play value.
With galvanised steel frames and springs, as well as rot-proof matting, children's trampolines are pretty resistant to most weather conditions, although families in areas prone to high winds are well advised to use an anchor kit to prevent the trampoline blowing away. In the 21st century we have witnessed the elevation of the trampoline to the No.1 children's outdoor toy.
FEATURED RETAILERS

The world's most famous online retailer sells an unparalleled selection of toys.
Visit Amazon Now >>

Has a massive selection of trampolines in many different sizes and shapes.
Visit Trampoline Warehouse Now >>

An independent and family run online business selling indoor and outdoor toys.
Visit Cheeky Monkeys Now >>
OTHER RETAILERS