The Independent Toy Awards 2020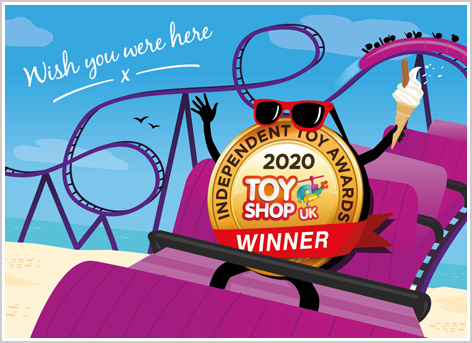 A background to the awards
Now in our 13th year, the Independent Toy Awards enjoy unrivalled respect within the industry, thanks to being voted for - not by "experts", "testers" or "panels" - but by those at the sharpest end of the industry... the nation's independent toy retailers.
We are uniquely positioned to host such awards due to our ever-growing network of over 900 independent toy retailers that list themselves on this website for free.

Do larger companies have a bigger chance of winning?
No! The wholly democratic entry and voting process ensures that the typically eclectic list of winners is made up of all kinds of companies... from household name behemoths to fledgling start-ups.
How do the awards work in practice?
Suppliers are invited to submit their hero products to any of the numerous categories and the products with the most votes win either a gold, silver or bronze medal logo. Products that narrowly miss out on a top spot but achieve at least 10% of the votes in their respective category are awarded a commendation medal logo.
How much does it cost?
Being online-only, our awards are run without the huge expense of an official ceremony and this is reflected in the fact that it costs just £125/product/category to enter.
Who gets to see the results?
We enjoy substantial trade coverage and promote it heavily to our websites visitors, newsletter subscribers and social media followers. In addition, many suppliers capitalise on their win - not just by displaying their winning medal on websites, packaging and trade stands - but also by their own marketing activities.
2019 Gold Medal Winners (See the winning products >>)
To be a gold medal winner in the Independent Toy Awards, you need to not only have a first-class product but be well respected and trusted within the independent toy trade.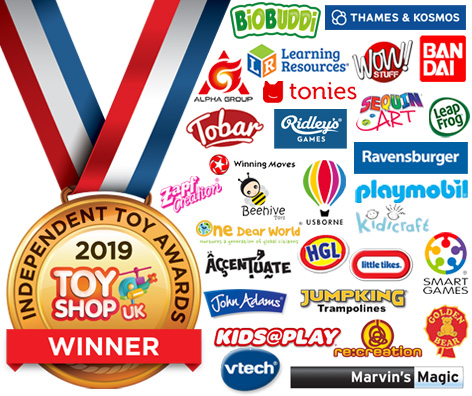 2019 Silver Medal Winners (See the winning products >>)
A large number of products that won silver were so close to a gold medal that a vote or two either way would have tipped the balance. As well as household name companies, you'll notice a generous smattering of lesser known companies too, which just goes to show how our awards aren't about marketing muscle... they're about having a great product.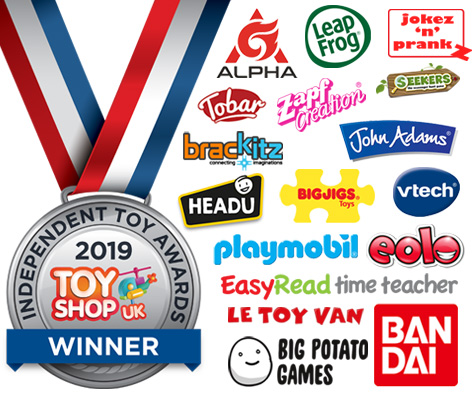 2019 Bronze Medal Winners (See the winning products >>)
The quality of the products submitted by the following bronze medalists only goes to show how closely fought our awards were this year.
2019 Commended Medallists (See the winning products >>)
The companies below narrowly missed out on a top three medal this year, but acheived at least 10% of the votes in their respective categories.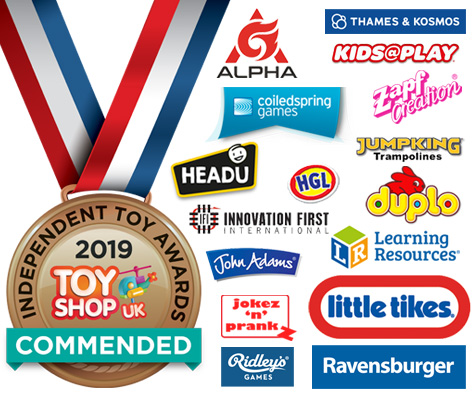 Richard North (CEO, Wow! Stuff)
The Independent Toy Awards is an awards organisation the industry covets. Winning the Gold Award for the Harry Potter Invisibility Cloak is fantastic!

Dr. Graeme Fraser-Bell (CEO at Accentuate Games Ltd)
We are both honoured and proud to have been awarded Gold in the Board Game category. We sensed from the start something special about Rats to Riches™, this win is testament to that intuition, the ingenious game-play and innovative design. Thank you to those >900 independent retailers and the fabulous Toy Shop UK team for this incredible vote of confidence. We finally did it!


Roy Greenwood (Director of Kidicraft)
Kidicraft are thrilled to be awarded Gold for this amazing puzzle from our Harry Potter range. Presentation of our full range at the Autumn Fair Hall 7, Stand B92.

Michelle Lilley (Head of Marketing at Little Tikes)
We're extremely happy to have been awarded two awards in this year's independent Toy Awards, following three previous wins in 2018. This year has seen many exciting launches for the Little Tikes brand and we're super grateful that this year's panel of Independent Toy Retailers think so also!


Rachael Carpenter (Head of Design at Ridley's Games)
We are so incredibly pleased with the Gold win for Smashing Pumpkins in the Independent Toy Awards. It's the first win for our new smashing AW19 card matching game, and perfect timing for Halloween!
Reg Sookee (Brand Manager at Alpha Animation)
We are absolutely thrilled to win a Gold award for our WWE AIRNORMOUS Deluxe Universal Championship Banner. To be recognised by the Independent Toy Awards is important one for Alpha Group UK, as our main goal for this brand is to bring WWE Role-Play to a new level. We're are proud to be recognised for this and to work with WWE in bringing soft & safe play to all kids!


Job Nijssen (General Manager at BiOBUDDi)
We are extremely proud of winning the award. BiOBUDDi is a new brand with a clear vision; Build a better tomorrow. Our product range is constantly growing and the products are great playing fun and of high quality. Our main focus is to make products that do not harm the environment that we live in. The win of this award confirms that we are on the right track.

Marvin Berglas (Creator of Marvin's Magic)
We are delighted to have received the gold medal for our Marvin's Magic set. Magic is a such a wonderful and fun hobby whilst also encouraging many useful benefits such as hand eye coordination, social skills as well as confidence building. This set is the ideal starting point and covers all the different aspects for performing magic and Illusions.

Matthias Keudel (Country Manager UK & Ireland at tonies®)
We are delighted to receive the Gold Award from such an esteemed panel of judges - the nation's independent toy retailers. The Toniebox has only just entered the UK market, following its huge success in Germany, but we've already had a great reception from retailers and we were pleased to announce our license with Disney last month. It's the start of an exciting journey for the brand in the UK.

Kasia Leskow (Marketing Manager at Zapf Creation UK)
We're thrilled that all three Zapf Creation brands have been recognised in the Independent Toy Awards, particularly BABY born Surprise being awarded gold, which is testament to the huge success we've seen since launching earlier this year.


Steve O'Connor (Managing Director of Thames & Kosmos)
We are delighted to have won a Gold Medal at this year's Independent Toy Awards for one of our latest STEM products, Alien Slime Lab.

Toby Horne (Director of Beehive Toys)
We're delighted to have won the Gold Award for our Giraffe Baby Balance Bike! It's a great way for us to introduce ourselves to Independent Retailers with such a popular range of our own branded toys.