The 2018 Independent Toy Awards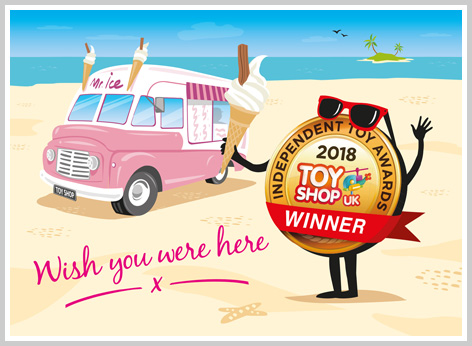 A background to the awards
Now entering their 10th year, the Independent Toy Awards enjoy unrivalled respect within the industry, thanks to being voted for - not by "experts", "testers" or "panels" - but by those at the sharpest end of the industry... the nation's independent toy retailers.
We are uniquely positioned to host such awards due to our ever-growing network of over 900 independent toy retailers that list themselves on this website for free.

Do larger companies have a bigger chance of winning?
No! The wholly democratic entry and voting process ensures that the typically eclectic list of winners is made up of all kinds of companies... from household name behemoths to fledgling start-ups.
How do the awards work in practice?
Suppliers are invited to submit their hero products to any of the 25 toy categories and the products with the most votes win either a gold, silver or bronze medal logo. Products that narrowly miss out on a top spot but achieve at least 10% of the votes in their respective category are awarded a commendation medal logo.
How much does it cost?
Being online-only, our awards are run without the huge expense of an official ceremony and this is reflected in the fact that it costs just £100/product/category to enter.
Who gets to see the results?
We enjoy substantial trade coverage and promote it heavily to our websites visitors, newsletter subscribers and social media followers. In addition, many suppliers capitalise on their win - not just by displaying their winning medal on websites, packaging and trade stands - but also by their own marketing activities.
2017 Gold Medal Winners (show me the winners)
To be a gold medal winner in the Independent Toy Awards, you need to not only have a first-class product but be well respected and trusted within the independent toy trade.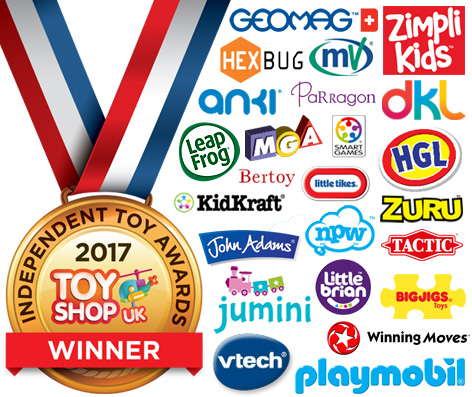 2017 Silver Medal Winners (show me the winners)
A large number of products that won silver were so close to a gold medal that a vote or two either way would have tipped the balance. As well as household name companies, you'll notice a generous smattering of lesser known companies too, which just goes to show how our awards aren't about marketing muscle... they're about having a great product.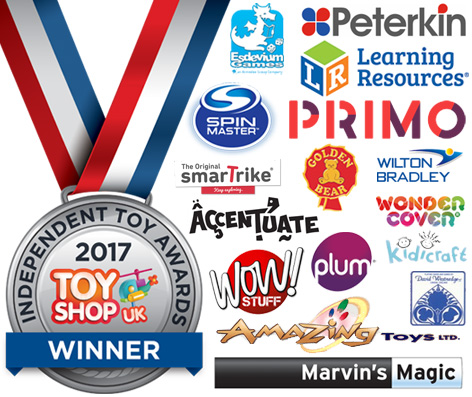 2017 Bronze Medal Winners (show me the winners)
The quality of the products submitted by the following bronze medalists only goes to show how closely fought our awards were this year.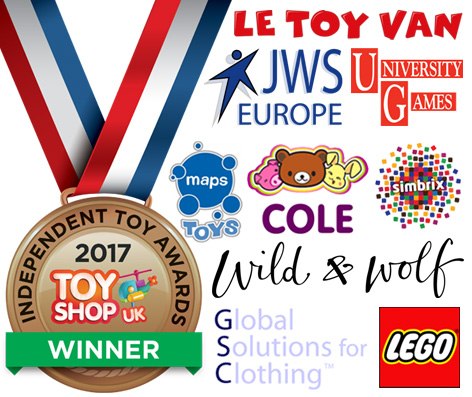 2017 Commended Medal Winners (show me the winners)
The companies below narrowly missed out on a top three medal this year, but acheived at least 10% of the votes in their respective categories.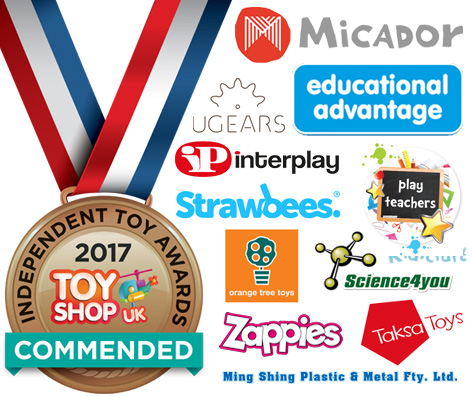 WHAT THE WINNERS ARE SAYING

We are absolutely over the moon that our brand new product, HEXBUG nano Space Cosmic Command, has won GOLD. This product is unlike any seen by HEXBUG before and were are delighted that the trade seem to be as excited by it as we are.

Itís fantastic that a brand thatís just celebrating its 40th anniversary can still win gold!

We are thrilled to have been awarded the Gold medal in the educational games category for the Independent Toy Awards. Itís a real honour to have scooped the top mark for this category and we are pleased to know SmartGames has been recognised as it reflects our commitment to ensuring our games are fun, educational and nurture development.

We are thoroughly delighted with the gold award for our newly launched Magicube range. We are all very excited about this revolutionary product range. We are receiving fantastic responses to Magicube range across the board but to receive this recognition for The Toy Shop UK is an honour indeed.

We are thrilled that the SnoBall Battle Pack has won gold in the Outdoor category. It is thoroughly deserving of recognition as it really does transform a once seasonal outdoor experience into something that children can enjoy all year round!
We are thrilled and proud to have won these three awards. It makes us feel successful in our continued dedication towards promoting imaginative play and interaction amongst children.

We are delighted to have won the gold award for "Hatch And Grow Alien". We've thought it was going to be winning line so it's great to have that recognised.

Steve Brown (CEO of Crocodile Creek)
Crocodile Creek is honored and most appreciative to have been recognized with such a prestigious award for our Dinosaur Jigsaw puzzle. It has been a privilege to support and celebrate the independent and local retailers over the years and to continue to do into the future.


Nick Mowbray (Director and Co-CEO, ZURU)
We're delighted that Shnooks have taken home gold in the Soft Toy category! Launching a brand after 6 years is always a bit of a risk, but with the perfect combination of plush and hair-play, we were confident that Shnooks would be just as loved this time around. Weíre honoured that our industry peers are enjoying the come back!

Etta Saunders (Childrenís Publisher, Parragon)
Our Factivity Solar System pack is bursting with cosmic facts and fun. We are over the moon to win GOLD for it at the Independent Toy Award 2017 in the Educational category.

Nikki Garner (Marketing Director, Inside Out Toys)
Being so new to the wooden toy market we are thrilled to have won a Gold Award for our racing car in the vehicles category - and after just 12 months trading! This award gives us the confidence that we can bring you many more brightly coloured, sensibly priced designs in the future.

Jamie Dickinson (Marketing Manager at Playmobil)
We are thrilled and honoured to have been awarded gold in the Licenced category for the Ghostbusters Ecto-1. Since its launch in May it has proven extremely popular with parents and children alike. As this year saw our first venture into entertainment licensing it is fantastic to see that this product been triumphant in these awards.