The Independent Toy Awards 2021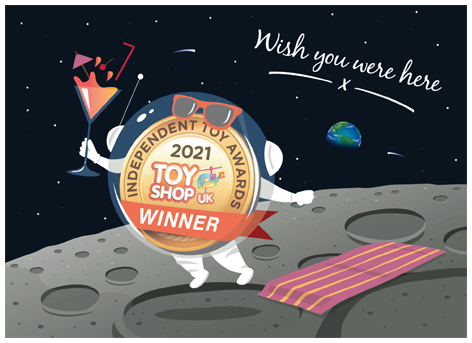 A background to the awards
Now entering our 14th year, the Independent Toy Awards enjoy unrivalled respect within the industry, thanks to being voted for - not by "experts", "testers" or "panels" - but by those at the sharpest end of the industry... the nation's independent toy retailers.
We are uniquely positioned to host such awards due to our ever-growing network of over 900 independent toy retailers that list themselves on this website for free.

2020 Gold Medal Winners (See the winners >>)
To be a gold medal winner in the Independent Toy Awards, you need to not only have a first-class product but be well respected and trusted within the independent toy trade.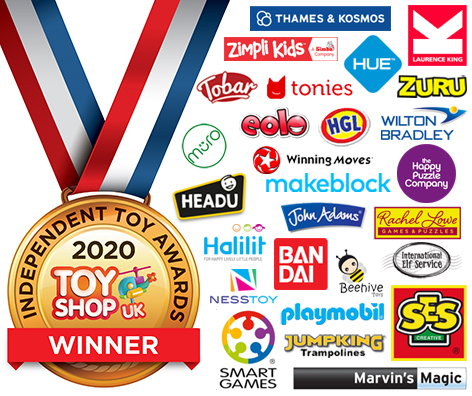 2020 Silver Medal Winners (See the winners >>)
A large number of products that won silver were so close to a gold medal that a vote or two either way would have tipped the balance. As well as household name companies, you'll notice a generous smattering of lesser known companies too, which just goes to show how our awards aren't about marketing muscle... they're about having a great product.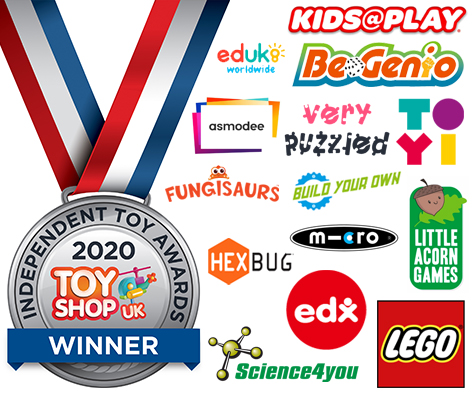 2020 Bronze Medal Winners (See the winners >>)
The quality of the products submitted by the following bronze medalists only goes to show how closely fought our awards were this year.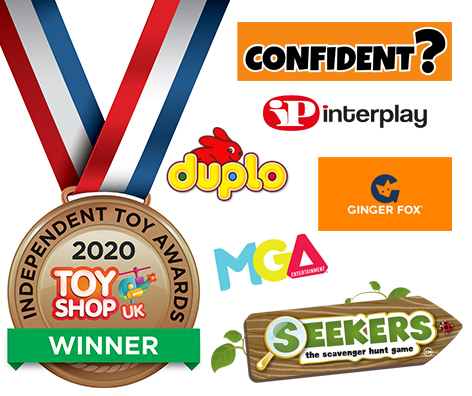 2020 Commended Medallists
The companies below narrowly missed out on a top three medal this year, but acheived at least 10% of the votes in their respective categories.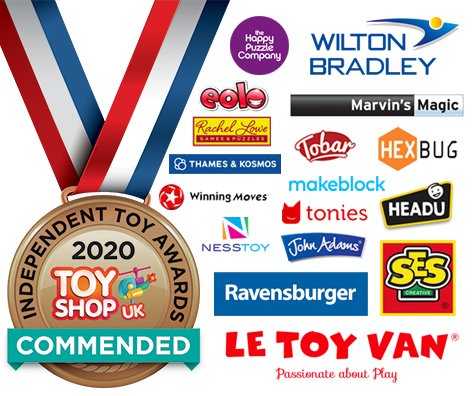 Steve O'Brien (General Manager, YJ Europe Ltd)
We are delighted that our Jumpking 8ft x 12ft Jumpking Rectangular Deluxe Trampoline has won the Gold Award this year. We proud of all our models and have something for everyone's garden and budget. We have exciting new products coming out next year and hope to be winning more Golds.

Erika Sava (Marketing Director, ZURU)
We knew 2020 would be the year of the sloth and Fifi the Flossing Sloth from ZURU Pets Alive is perfect aligned with that trend! The ITA Gold medal is testament to her uniqueness and popularity. We're also delighted to add the Independent Toy Awards to our suite of awards for Rainbocorns!

Laura Atorrasagasti (Global Marketing and Communication Manager, Eolo Toys)
We are thrilled to have won both, the Gold Medal for Roxanne, the Dancing Chicken of the farm and the Commended Medal for Slider Disc! We have worked so hard this past year to bring to life innovative and different products, so we are more than proud of the whole team.

Marc Valli (Deputy Publisher, Laurence King Publishing)
We are very proud of this award. I Saw It First: Jungle is a great example of Magma's creativity, from its triangular box to how its board works to improve its game play. Caroline Selmes' 300 wonderful animal illustrations are also remarkable. We were pleased to see how, from the moment the game came out, it was supported by indies and we hope many more families will get to enjoy playing this game (whether they are in lockdown or not!).

Toby Horne (Director, Beehive Toys)
We're thrilled to have been awarded Gold for our Bumblee Balance Bug in the Independent Toy Awards! A lot of thought goes into our range of toys and winning such a well-respected award again this year shows us that our team continue to get it right!

Emily Beckloff (Founder, International Elf Service)
We're absolutely thrilled that our personalised, eco-friendly International Elf Service Elfie's Christmas Letters Ultimate Story Bundle has won a Gold Award at the 2020 Independent Toy Awards in the ADVENT CALENDAR category. A great deal of love goes into creating our magical Christmas Elf Letters from the North Pole. We're so proud to be recognised for inspiring children to read, promoting family time and helping families create precious childhood memories in the most magical, exciting ways.

Cathy Doel (Marketing Manager, HUE Animation)
HUE is thrilled to have won GOLD in the 2020 Independent Toy Awards in the Special Needs category. Assisting all children to learn through creativity, collaboration and critical thinking is our mission and HUE Animation Studio does just that.

Marvin Berglas (Creator, Marvin's Magic)
The Daily Express summed up our collaboration with Rubik's beautifully - "Two world class acts have come together with a brain-teasing bonanza "....we are proud to have created a host of innovative magic tricks especially themed and revolving around the legendary puzzle. I know magic and puzzle fans will really enjoy this set and we are delighted to have won the Gold Medal at the 2020 Independent Toy Awards.

Manon Sel (UK General Manager, tonies®)
We are thrilled to have won two medals in this year's Independent Toy Awards! We've worked hard this year developing our portfolio and have released some fantastic new Tonies – including new Disney Tonies, so to see that recognised is fantastic news.

Malka Morgenstern-Herbst (Director of Sales & Business Development, NESSTOY)
We are thrilled & humbled to accept the UK toy of the year award for Boxing Battle by ArmoGear & add the trophy to a 2nd great ArmoGear item! We are very excited to bring such an innovative & active toy to the market & look forward to seeing kids everywhere enjoying this healthy competition.

Julia Loeser (Marketing & PR Manager, Thames & Kosmos)
We are delighted to learn that our Solar Powered Rovers kit has won the prestigious GOLD medal at the 2020 Independent Toy Awards in the STEM Toy category. We are so pleased to see that the expert panel agree with us that this kit is a fantastic support when teaching children about how solar cells work. We are also pleased that Ubongo Travel, a nifty little addition to any family board game cupboard, has been recognised in the Educational Games category.

Damien Collett (Head of Sales, SES Creative)
We are delighted to have been awarded the Gold Award for our My First - Crayon Beads in the Creative category. We aim to develop products that bring a sense of satisfaction to all our users and encourage imagination and introduce children to the joys of creativity. We knew when developing this product that there was a need for young children and their parents to have a product that made colouring simple, fun and easy. We are proud that this has been recognised, and are grateful to all the independent retailers that voted for this product.

Gavin Ucko (Managing Director, The Happy Puzzle Company)
We are incredibly proud to have won this award. Bee Genius as an educational concept is so different and we are delighted that its potential has been recognised!

Amy Wildman (National Account Manager, Halilit)
We're thrilled to have won a gold award for the Edushape Textured Pop Blocks! We love the versatility of the Textured Pop Blocks and how they engage little ones in many different ways, so we are both proud and honoured to see that the well-respected retailers who judge the Independent Toy Awards love and appreciate them too!