The Independent Toy Awards 2021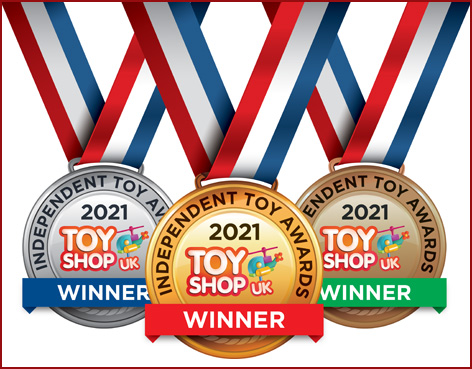 We are delighted to announce the results of the 14th annual Independent Toy Awards featuring a proudly eclectic group of winners... from household name giants to fledgling start-ups.
2021 Gold Medal Winners (See the winners >>)
To be a gold medal winner in the Independent Toy Awards, you need to not only have a first-class product but be well respected and trusted within the independent toy trade.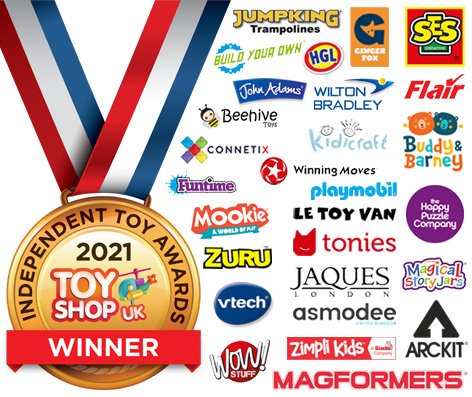 2021 Silver Medal Winners (See the winners >>)
A large number of products that won silver were so close to a gold medal that a vote or two either way would have tipped the balance. As well as household name companies, you'll notice a generous smattering of lesser known companies too, which just goes to show how our awards aren't about marketing muscle... they're about having a great product.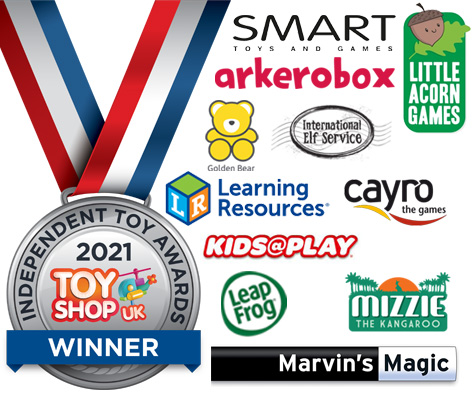 2021 Bronze Medal Winners (See the winners >>)
The quality of the products submitted by the following bronze medalists only goes to show how closely fought our awards were this year.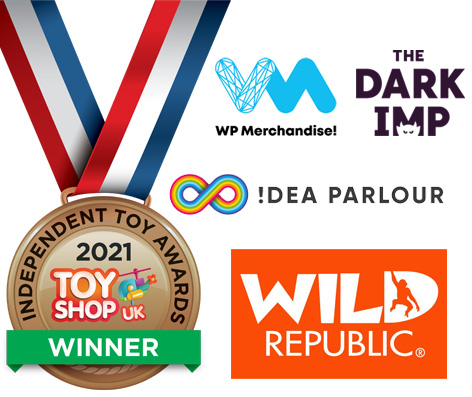 A background to the awards
Now in our 14th year, the Independent Toy Awards enjoy unrivalled respect within the industry, thanks to being voted for - not by "experts", "testers" or "panels" - but by those at the sharpest end of the industry... the nation's independent toy retailers.
We are uniquely positioned to host such awards due to our ever-growing network of over 900 independent toy retailers that list themselves on this website for free.

Gavin Ucko (Managing Director, The Happy Puzzle Company)
For a small company, these awards mean the world. It makes all of the hard work and effort put in by my team worthwhile. Thank you.

Kyle Maglione (International Marketing & E-commerce Manager, Mookie)
We are delighted that our hugely popular TP Toys 4 in 1+ Trike has been awarded a coveted GOLD medal in the RIDE-On category at this year's Independent Toy Awards. It's this accolade that means so much to us as a company given we have a fantastic partnerships network across the Independent trade.


Alice King (Marketing Assistant, Le Toy Van)
Winning the gold award in the role play category for the Nursing Set is a proud moment for our team. The design promotes creative and imaginative play, with a versatile design. Featuring gorgeous finished wood with natural cotton fabric not only gives the set a gender neutral feel, it also means the nursing set perfectly complements a range of doll pram and cot sets.

Joe Jaques (8th Generation Game & Toy Maker, Jaques)
Here at Jaques, we are all delighted to see some of our favourite toys recognised for their educational and entertainment value. We are proud to share this success with our team of dedicated personnel and teachers, who have helped to shape and develop a range of toys that promote the incredible power of play.

Eejay Enyi (Sales Director, Zimpli Kids)
Continuing our winning streak at Zimpli Kids, we are extremely happy to be a gold winner in the Pocket Money category at the Independent Toy Awards; for our NEW Galaxy Slime Play!


Keith Finch (CEO, Build Your Own Kits)
We're absolutely delighted that our new Mini Builds Honey Bee has won gold! We've seen an incredible response to the Mini Builds during our launch campaign, and to win gold in the Eco category during launch month is just fantastic – thank you!

Emma Craddock (General Manager, Beehive Toy Factory)
We're delighted to have won gold in the Independent Toy Awards for our wooden Memory Matching Game. It's only been on the shelves for a few weeks and it's already received amazing feedback from our customers so we can't wait to announce the win! Thank you!"

Roy Greenwood (Director, Kidicraft)
We are absolutely thrilled to have been awarded a Gold Medal for our Harry Potter Plush & Puzzle in the Jigsaw and Puzzles category. The Plush & Puzzle range is new addition to Kidicraft and I would like to thank all those involved in the development and production of this award winning item.


Jack Prendergast (Managing Director, Funtime Gifts Ltd)
We're delighted our new Solar Space Exploration Set has won gold in the Independent Toy Awards STEAM category. This award means a huge amount to us and will hopefully be the first of many as we look to expand our toy and STEAM offering.

Damien Murtagh (CEO, Arckit)
We are over the moon to win both an ITA Gold & Silver Medal respectfully for Arckit Greenscape Village & GO Eco, two of our new and 'Best Ever' collection of kits launching this Q4. We strive to introduce a whole new method of learning for young creative minds to develop essential skills, grow in confidence and help prepare them to become positive change makers in society.


Beth De Nobrega (Founder & Chief Story Maker, Magical Story Jars)
Here at Magical Story Jars HQ we are ecstatic that our innovative and unique Adventure Themed Story Jar has won a gold award. We are proud that the nation's independent toy retailers have recognised this and chosen us to win a coveted gold Independent Toy Award.

Gemma Watson (Digital and System Manager, Ginger Fox)
Ginger Fox is delighted to have won the Gold award for our Top Gear Board Game. Our team has put a lot of love into creating a fun and innovative game based around this iconic show. We are very proud to receive this award, and thank you for the recognition of all the hard work that has gone into this.

Mia Thornby (Marketing Assistant, Winning Moves)
We are delighted to win gold for our World Football Stars Top Trumps Quiz! We hope the game can give families lots of fun and joy celebrating football, even long after the Euros has finished!

Pinky Laing (Partnership & PR Manager UK, tonies®)
We at tonies® are absolutely thrilled with winning gold and silver awards respectively in the educational and musical categories. We are truly dedicated to storytelling, educating and inspiring children through audio and these important awards reiterate our commitment.