Independent Toy Awards 2023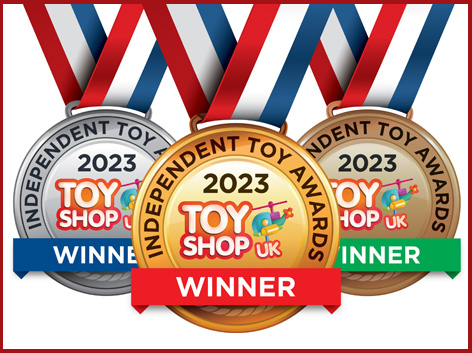 Now in our 16th year, the Independent Toy Awards enjoy unrivalled respect within the industry, thanks to being voted for - not by "experts", "testers" or "panels" - but by those at the sharpest end of the industry... the nation's independent toy retailers.
We are uniquely positioned to host such awards due to our ever-growing network of independent toy retailers that list themselves on this website for free.
Gold Medal Winners (show me the winners)
To be a gold medal winner in the Independent Toy Awards, you need to not only have a first-class product but be well respected and trusted within the independent toy trade.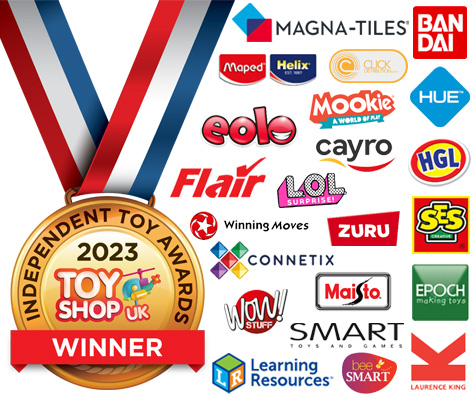 Silver Medal Winners (Show me the winners)
A large number of products that won silver were so close to a gold medal that a vote or two either way would have tipped the balance. As well as household name companies, you'll notice a generous smattering of small companies too, which just goes to show how our awards aren't about marketing muscle... they're about having a great product.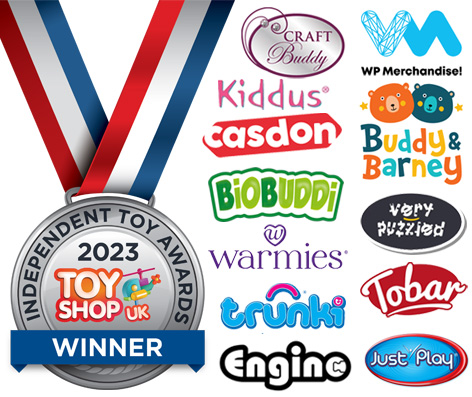 Bronze & Commended Medal Winners (show me the winners)
The quality of the products submitted by the following bronze only goes to show how closely fought our awards were this year.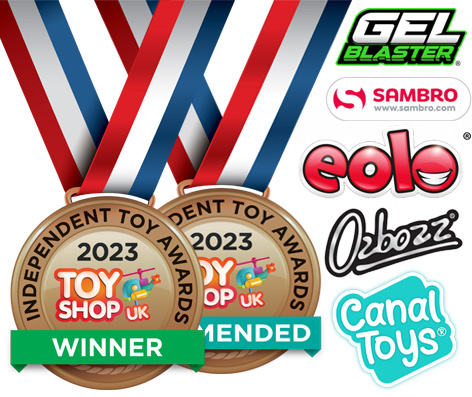 QUOTES FROM THE 2023 WINNERS

Brea Brand and Dave Alexander (Owners, Connetix)
We are thrilled that CONNETIX® was awarded Gold in the Special Needs Category for 2023. As a brand we are proud to champion open-ended play for a wide range of ages and abilities. By providing parents, educators and allied health professionals with high-quality resources such as Connetix, we believe we can encourage children to develop a love of learning while building important life skills, all through PLAY!

Will Collinson (General Manager, UK & Ireland, ZURU)
We're delighted to win gold for the X-Shot Skins Lock Blaster. Since our launch into the market we've seen a phenomenal performance from the Skins range and this along with all X-Shot ranges, continues to disrupt and push boundaries within the blaster and outdoor toys categories.

Karen Clarke (Brand Director, Smart Toys & Games)
We are over the moon to be recognised for two awards in this year's Independent Toy Awards. SmartGames 'Cats & Boxes' has been a hugely popular release for us this year and we're delighted it took the top spot in the Educational Games category. SmartGames brings the fun into learning, making this new title a Purrfect addition to think inside the box!

Punam Malhotra (Director, Bee Smart Toys)
We are delighted on receiving the Gold Award for our Wooden Lion Pull Along Toy Box! It's wonderful to see recognition for Bee Smart's dedication to creating innovative and enjoyable traditional wooden toys. Thank you!

Richard North (President, Wow! Stuff)
Winning the Gold award for our animatronic Real FX Baby T.Rex in the 30th Anniversary year of Jurassic Park is all the more prescient when you know it's been judged by the retailers, who decide with their wallets! They are vested in making the right decisions and the publicity we get from this is superb.

David Mordecai (CEO, One for Fun)
We are delighted to win not one but two Gold Awards in this year's Independent Toy Awards. It just celebrates the diversity of product we have here at One for Fun - the Maisto Massey Ferguson Farm Set, a fantastic popular traditional toy, and our second gold For HGL's Micro Fidgetz which couldn't be more of the moment, fidgets and collectables all rolled into one!.

Philip Contos (Publishing Director, Laurence King Publishing)
We're thrilled that our continuing innovation has resulted in two gold medals in the Independent Toy Awards this year! Dino Dash is a whole new way of doing puzzles for kids, in which each piece is in the shape of a different dinosaur. Monster Chef is a brand-new, original card game in which players compete to make the grossest burger – wholesome, disgusting, hilarious fun! We are delighted with this recognition and support from retailers, and we are excited to show the judges what we have in store next year.

Cathy Doel (HUE Animation)
We are absolutely thrilled that HUE Animation Studio has won GOLD in the EDUCATIONAL category of the 2023 ITAs. Learning with HUE Animation Studio is fun, and children are able to acquire the 21st century skills of collaboration, creativity and critical thinking whilst creating their own movies. We are delighted to receive this accolade and approval from the nation's independent toy retailers.