Electronic Toys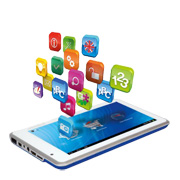 An explosion in the popularity of toys containing some sort of electronic gizmos is fuelled in part by the rising sales of adult consumer gadgets and mobile devices. These cutting edge technologies are changing the face of childrenís toys forever. Whilst there will always be a place for traditional toys, the breath-taking advancement of electronic and tech toys means that more and more toys now have integrated microchips, battery-operated moving parts and internet connections to expand their ptential.
The massive rise of tablet ownership in the adult population has spawned many varieties of similarly sophisticated products for kids, with Vtech and LeapFrog leading the way. Meanwhile, continued development has led to newer and ever faster games machines, some with wireless remote control. At a more junior age level, even plenty of the smallest baby toys have a miniature chip embedded in them to create appealing noises, music and lights.
Animatronic toys that replicate real human or animal movements are also top of most children's wish lists. Soft toy dogs and cats with embedded sensors that react to touch or sound are popular for girls and are made by several different suppliers. Boys canít wait to get their hands on noisy products like electronic dinosaurs that roar and stomp or the latest versions of the ever popular Star Wars lightsabers. Electronic toys are here to stay, and often take the top places in polls of kids favourite toys.
FEATURED RETAILERS

The world's most famous online retailer sells an unparalleled selection of toys.
Visit Amazon Now >>

This successful toy chain is one of Ireland's biggest retail success stories.
Visit Smyths Toy Store Now >>

Specialist seller of video games for PC's and consoles, as well as keeping a huge selection of Games Workshop products.
Visit Game On Now >>
POPULAR SUPPLIERS

OTHER RETAILERS