Toy Robots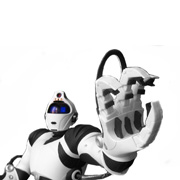 From very humble beginnings, various simple toy robots have been produced by German and Chinese toy companies for many decades. Usually made of tin with a simple clockwork mechanism for walking, hand waving or head turning, toy robots were often made to look like alien enemies from another planet. As these toy robots became powered by batteries, more features like flashing lights or robotic sounds could be incorporated and made to look more 'realistic'.
Modern toy robots however benefit from electronic miniaturisation, and can be made to perform functions that were unthinkable, even in the mid 1990s. Whilst retro toy copies of the early robots are still made and sell in their millions every year, Robosapien was the first of the new generation of toy robots with multiple joint movements, and astoundingly was able to stand upright from a horizontal lying position. This was made possible by the heavy batteries being placed in his feet therefore aiding balance – a trick copied by many manufacturers since then. As toy robots become more complex, companies introduce animatronic parts with sensors that can be used to perform different functions.
Toy robots like Zibits are inexpensive playthings enjoyed by millions of kids, and although many of them will want something more sophisticated, radio-controlled robots by firms like WowWee make great birthday presents. Kids can even make their own toy robot thanks to kits from The Science Museum or firms like Meccano. Some sets even include a mini camera connected by Wi-Fi to a computer so that you can control your toy robot from another room in the house!
FEATURED RETAILERS

The world's most famous online retailer sells an unparalleled selection of toys.
Visit Amazon Now >>
HERO PRODUCTS