Dance Mats for Kids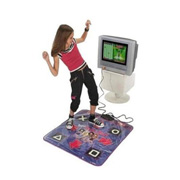 Get those arms waving and feet moving for hours of dancing fun. Brilliant for physical exercise as well as encouraging healthy competition, dance mats are great fun for the entire family. Many of the latest dance toys include new features such as the ability for you hold your own dance contests and to dance along to your own favourite tunes as well the pre-programmed selection.
It's well accepted that dancing is one of the best exercises for helping to keep you fit, so it's no surprise that the big console manufacturers have come up with an amazing selection of dance mats for their consoles. Not only are they great fun, but with the added bonus of raising fitness levels it's no wonder they're so popular. Whether you own a Wii, Xbox or Playstation, there's a great assortment of fitness dance mats ready to be plugged in. Along with dressing up parties, plenty of kids and adults love their dancing parties, especially on cold winter evenings - what better way to get warmed up!
The smallest members of the family aren't forgotten with dance mats themed on some of their favourite characters. These 'stand alone' versions can also help to teach number and colour recognition at the same time. With a virtually limitless number of different dance sequences available to you – and many different skill levels, you'll be assured of hours of fun. Challenge your friends to a 'dance off' and see who will win!
FEATURED RETAILERS

The world's most famous online retailer sells an unparalleled selection of toys.
Visit Amazon Now >>