Animatronic Toys & Pets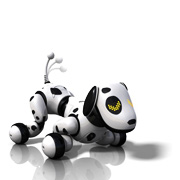 Animatronics is the use of robotics and electronics to make a model or puppet appear to be real or alive. This technology was originally developed for the film industry. Many blockbuster films rely heavily on animatronics to deliver the exciting experience for audiences that they now expect. The sophistication of miniaturisation and manufacture has enabled the toy industry to produce some remarkably realistic and life-like animatronic pets that would only have been dreamed of a few years ago.
One of the earliest users of animatronics in toys was Omnibot. This was a charming looking robot that was produced by Tomy. He launched to rave reviews but seems very tame by modern standards. NASA scientists were famously involved in the design of Robosapien, a human-like animatronic robot that could lie flat on the floor and get himself standing again unaided!
The pace of animatronic toy development has increased dramatically in recent years, with many established and traditional toy suppliers embracing this technology. Some offer all kinds of animatronic pets such as parrots, puppies and kittens, whilst construction toy companies like LEGO and Meccano have also joined in the animatronic revolution. Undoubtedly there are many more developments to come in the exciting world of animatronic toys, and we can't wait to see what the animatronic toy designers come up with next!
FEATURED RETAILERS

The world's most famous online retailer sells an unparalleled selection of toys.
Visit Amazon Now >>

The market leader in quirky and unusual gifts, gadgets or toys.
Visit Firebox Now >>

Find "stuff that you don't need... but really really want" on the IWOOT website.
Visit I Want One Of Those Now >>
HERO PRODUCTS