Zoomer Dino Boomer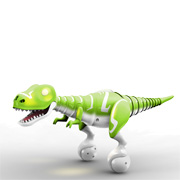 Created by the robotics division of Spin Master, Zoomer Dino Boomer is one of the most sophisticated toy pets around. As befits a dinosaur of his size and stature he can appear to be aggressive at times, especially if heís disturbed during guard mode!
A sophisticated gyro built into his body means that he can cleverly walk or run around just balancing on his two legs. Keep out of the way of his chomping jaws and whipping tail that seems to flick out when youíre least expecting it. Like the rest of the Zoomer range, the many articulated points of Boomerís body, head and legs enable him to perform the most amazing actions.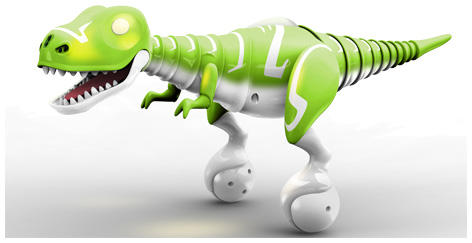 His colour changing eyes can turn from anger to pleasure in an instant, especially when his owner has programmed him to show off his famous dance moves! Cleverly concealed sensors on Zoomer Dino Boomerís nose can sniff out trouble whenever itís around. This is the perfect robotic pet toy for children of 5 and over.
RECOMMENDED RETAILERS

Amazon
The world's most famous online retailer sells an unparalleled selection of toys.
Buy the Zoomer Dino Boomer now >>