Radio Controlled Toys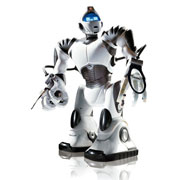 The phrase "remote controlled toys" (often referred to as "RC toys") is often used to mean toys that are controlled via a radio link. These are correctly called "radio controlled toys", whereas remote control used to mean a toy that was attached by a wire to a hand-held control box. Some models for younger children use infrared as the means of communication.
Lightweight helicopters for indoors use are amongst the most popular RC toys for adults and kids alike. Small rechargeable batteries have enabled flight to succeed without the huge weight of a power pack. Thanks to constant research and development even twin rotor models of the iconic Chinook helicopter have been made to work!
Many radio controlled toys can be built from kits, and in the case of buggies, racing cars or boats there are many clubs around the country that host regular racing weekends. The main power source is still batteries, but increasingly the use of lightweight miniature liquid fuelled engines is used to power these vehicles.
FEATURED RETAILERS

The world's most famous online retailer sells an unparalleled selection of toys.
Visit Amazon Now >>

The original catalogue shop now sells a huge range of toys at great prices.
Visit Argos Now >>

Ranges of RC helicopters, planes, boats, buggies, monster trucks and tanks.
Visit RCToyWorld Now >>
OTHER RETAILERS