RC Toy World
No customer reviews yet. Be the first.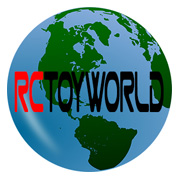 Address
3 Cardew Drift, Kesgrave, Ipswich, Suffolk, IP5 2YP
Telephone
0845 519 9081
Website
www.rctoyworld.co.uk
About
RC Toy World is an online specialist in the sale of radio control toys to suit beginners and experts alike. Located near Ipswich in Suffolk, the shop sells a wide range of RC helicopters, planes, boats, cars, buggies, monster trucks and tanks. These are sourced from a variety of suppliers such as Acme, HSP, CopterX, Starmax and other leading brands.
In order to provide good customer service, RC Toy World's online shop provides full details of all the models in stock, together with multiple high resolution images of each product. Many of the items are aimed at buyers new to radio control models, so the price ranges are affordable. Pre and after-sales support is in place to ensure you select the correct products, and then help you once you have purchased.
All the products are sourced from UK wholesalers, so after-sales support for spares - should you unfortunately damage your model - is not a problem. This specialist radio control retailer accepts payment using all major credit and debit cards as well as PayPal.
RC Toy World is an Ipswich toy shop that specialises in radio controlled toys.