Children's Climbing Frames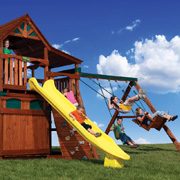 From a very young age kids just love climbing - and it doesnít take long for them to need something more substantial than a sofa or a chair! A number of toy manufacturers make some superb climbing frames for children, with most of them accepting a huge range of accessories such as a hump-back slide to make the playtime even more exciting.
Not only is climbing great fun but it's also a terrific way for kids to develop confidence, strength, agility, balance, coordination and numerous other motor skills. Itís also one of the best social activities for your child, and alongside the obvious health benefits, these outdoor playthings can often prove to be the greatest adventure setting in the garden.
The youngest members of the family will usually be happy on something like a Little Tikes plastic climbing frame that can be used indoors as well as in the garden. Other suppliers like TP and Plum Products make a series of metal or wooden models that can be added to as the children get older and bigger.
FEATURED RETAILERS

The world's most famous online retailer sells an unparalleled selection of toys.
Visit Amazon Now >>

Provides a great range of climbing frames as well as other garden toys.
Visit Adventure Zone Now >>
OTHER RETAILERS