Dolls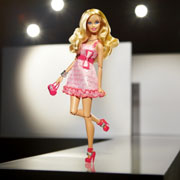 Even in the modern electronic toy era, dolls continue to delight children with their ability to inspire a whole new world of possibilities. Although the days of traditional porcelain dolls as a child's most treasured item are now long behind us, there are still a number of everlasting ranges such as Mattel's Barbie that continue to enthral and delight.
Different music, celebrities and fashions have inspired a whole new breed of dolls, with ranges like Bratz proving to be popular thanks to their outrageously glamorous outfits and accessories. No self-respecting doll would be without their own house, vehicle, swimming pool or some other playset, all of which help kids bring them to life and encourage some serious role play.
Baby dolls are particularly popular with the youngest little ones who like to cuddle them, change their outfits and take them for a walk in their own dolls prams. Zapf and Corolle are two of the biggest manufacturers in this category with a tremendous selection including ethnic and teenage variations, as well as everything in between.
FEATURED RETAILERS

The world's most famous online retailer sells an unparalleled selection of toys.
Visit Amazon Now >>

The original catalogue shop now sells a huge range of toys at great prices.
Visit Argos Now >>

Online-only toys and games retailer selling high quality branded items.
Visit BargainMax Now >>
OTHER RETAILERS