Dolls Prams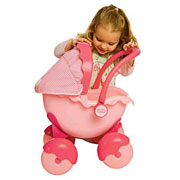 One of the most popular additions for any little child with a doll, has to be one of the hundreds of different dolls prams that are available to buy. Some are specifically made to fit a particular doll, and can have many different extras to go with them. Most dolls prams are now made to look just like the real thing.
Famous makers such as Silver Cross, Mamas & Papas and Maclaren all have toy prams made under licence for them, and also include shopping baskets, parasols, rain covers, car seats or carrycots. Silver Cross even still produce a popular steel bodied dolls pram with hand painted decoration lines and fabric hood and apron.
Even the material for dolls prams bodies are often scaled down versions of the material used in the adult version and the use of modern production techniques also means that dolls prams wheels, folding mechanisms, brakes and handles can be made as perfect smaller versions of a real pram. A simple dolls pram or pushchair can be bought at a very reasonable price, and many bigger ones are offered as packages with all accessories included.
FEATURED RETAILERS

The world's most famous online retailer sells an unparalleled selection of toys.
Visit Amazon Now >>