Ethnic Dolls for Children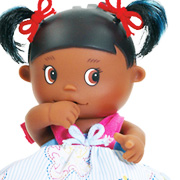 It's hard to put ethnic toys and dolls into context without mentioning the Golliwog. This soft toy was inspired by a minstrel doll and became popular in many parts of America, Europe and Australasia during the 20th Century. By about the 1950s however, the word was being used as a racial slur against people of African origin - and this led to a gradual decline in the dolls popularity as the associated connotations became increasingly negative.
The history of the Golliwog perhaps helps to explain better than anything why the introduction of toys that represent minority races or ethnicities have been treated with such caution by many major toy companies. Perhaps the fear of controversy has simply been too much of a risk to take.
At first glance, Barbie is the flip reserve of the Golliwog - yet the most famous doll on the planet has also endured years of controversy concerning her physical appearance. In her case, it has mainly concerned her unrealistic body image and unsavory lifestyle. Although her creation in 1959 meant she was born into very different times, there has been a surprisingly slow movement on behalf of toy companies to produce dolls that don't follow this outdated "Western ideal".
Whilst some companies have tentatively ventured into producing toys that represent different ethnic backgrounds, there has been a rather slow shift towards the production of toys that truly depict the look of our increasingly multicultural society with confidence and honesty.
As society becomes more culturally diverse, more young boys and girls in the UK want to play with dolls and other toys that actually look like the people around them. They want to play with toys that possess the same biological, behavioral or religious traits as either their own ethnic origin or that of their friends and family.
FEATURED RETAILERS

The world's most famous online retailer sells an unparalleled selection of toys.
Visit Amazon Now >>

Online shop that specialises in ethnically diverse dolls from top brands.
Visit Diverse Dolls 4 All Now >>