Baby Dolls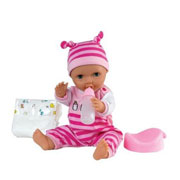 Baby dolls make the perfect companion for any young girl, and the selection of doll shops shown below feature some of today's most popular characters. Children are never too young to have their first baby doll. It helps form a sense of companionship as well as their ability to role-play and make up stories. You can buy baby dolls in all shapes and all sizes, although the retailers below should help in your search to find the perfect gift for your young one.
Baby dolls should be selected for their ability to enchant babies and young children for hours on end and for their quality and originality as well as their ability to stimulate and challenge. Probably the two best known baby doll manufacturers are both German - Gotz and Zapf. Their evolving ranges add different features and outfits as well as alternative facial expressions to ensure their offerings are always kept looking fresh and up to date.
FEATURED RETAILERS

The world's most famous online retailer sells an unparalleled selection of toys.
Visit Amazon Now >>

This comprehensive online store sells baby products from nearly 40 manufacturers.
Visit Kiddies Kingdom Now >>

One of the nation's favourite places to find imaginative and creative toys.
Visit Early Learning Centre Now >>