Multicultural Toys for Children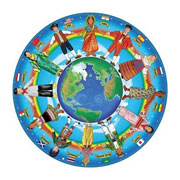 Whilst "multiculturalism" can mean different things to different people, the idea that society recognises, respects and values the ethnic diversity within it is something that the companies listed on this page all champion. Toys, games, dolls or jigsaws puzzles that reflect the culturally diverse communities in which we live haven't traditionally been high on the agenda for many toy suppliers or retailers.
However, many companies within the toy industry have woken up and now offer a great range of products for this fast growing market. Popular eco-friendly toy company, Plan Toys, has long had a range of Ethnic Doll Families. Educational specialist, Learning Resources, make a rather stylish Play Food Set which consists of a variety of foods from around the world.
Meanwhile, Melissa & Doug's Multicultural Children of the World Puzzle teaches children about different cultures, and eeboo's Multicultural Memory Game is a fun way to help children develop an appreciation of multi-culturalism whilst at the same time enhancing memory skills.
FEATURED RETAILERS

The world's most famous online retailer sells an unparalleled selection of toys.
Visit Amazon Now >>
OTHER RETAILERS