Children's Japanese Toys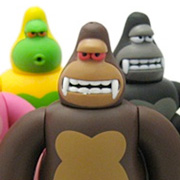 Many Japanese toys and games seem a little peculiar to Western eyes at first. Certainly the vinyl dolls look like nothing you'll see in Hollywood-produced animated films, and many of the electronic gizmos sit somewhere in-between sheer brilliance and utter absurdity. We think this is something to be embraced though… because once you've started to get your head around the Japanese passion for gadgets, gizmos, anime and tech toys, it's very likely that you'll be a convert and there will be no turning back!
There can be no denying how much the exports from Japan (in the form of merchandise and ideas) have affected popular culture in the West, and how much influence Japan has over our children's interests and pastimes. Everything from the embracing of electronic pets to the love of TV shows like Hello Kitty and Generator Rex must give a huge nod to the toys, comics and films that have come out of Japan.
Many UK shops are experts in Japanese toys, and whether you're after animatronic pets, collectable charms, USB gadgets or vinyl "kaiju" toys, they can guide you through the options. In the process, they're likely to open your eyes to the wonderfully wacky world that is awaiting you. Enjoy!
FEATURED RETAILERS

The world's most famous online retailer sells an unparalleled selection of toys.
Visit Amazon Now >>
OTHER RETAILERS