Toy Nativity Sets for Children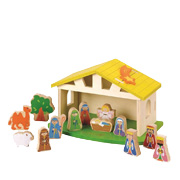 With Christmas being the largest celebration in the Christian calendar, itís a great time to teach children the important messages and history of the faith which has become rather overtaken by the commercialism of a modern Christmas. A number of toy companies realise the importance of this festival time and make some wonderful nativity toys that are based around the birth of Jesus in a manger.
In many homes a nativity scene is the central focus of the decorations, and they range from a simple wooden building to something much grander that includes sets of animals as well as Joseph, Mary, Jesus and of course the Three Wise Men carrying their gifts. Companies like Everearth, Bigjigs, Holztiger and Haba all make wonderful versions in carved wood that gives all the pieces such a soft and warm feel.
Playmobil and Lego also make plastic nativity pieces, and in addition both companies produce an advent calendar each year that rewards children with a model or treat on each day itís opened. Nativity toys can range from very simple one-piece figure models to highly detailed figurines that represent the joyous celebrations of this important time of the year.
FEATURED RETAILERS

The world's most famous online retailer sells an unparalleled selection of toys.
Visit Amazon Now >>