Toy Figures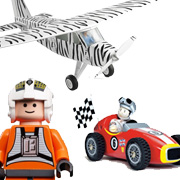 Lots of little boys and girls love collecting things, none more so than miniature toy figures. Sometimes known as figurines, Playmobil, LEGO, Schleich and Sylvanian Families are particularly popular suppliers of these toys, although other companies also have large ranges that are widely available.
There are so many different subjects to choose from including farm animals, pets, wild animals, sea life, dinosaurs, knights on horseback, fantasy creatures, fairy-tale characters and even sporting stars. Nearly always made from injection moulded plastic, most of the manufacturers produce their toy figures to a constant scale so that collecting farm animals for example, means that the cows are much bigger than the sheep!
Ranges of buildings or scenery to go with their collections are an important part of the play value, and children can have hours of fun pretending to be a farmer driving a tractor, a knight riding off to battle, or a princess in charge of her castle!
FEATURED RETAILERS

The world's most famous online retailer sells an unparalleled selection of toys.
Visit Amazon Now >>

Kid's subscription boxes for children aged 3 - 12 years.
Visit Fred's Box Now >>
POPULAR SUPPLIERS

Narrow your results: browse within Figures:
Cowboys & Indians
,
Dinosaurs
,
Dogs
,
Dragons
,
Fantasy
,
Farmyard
,
Horses
,
Kings & Queens
,
Knights & Princesses
,
Pets
,
Pirates
,
Sea Life
,
Soldiers
,
Wild Animals
.
OTHER RETAILERS