Toy Pirate Figures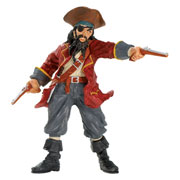 At some time in their young lives every little boy, and probably plenty of girls too have wanted to play at being a pirate. Following the success of the Pirates of The Caribbean movies there's been a huge upsurge in interest for everything to do with pirates, and playing with realistic figures is one of the best ways to act out that role. Papo make some superbly detailed models in a huge variety of poses and costumes. Combined with pirate ships, rafts and treasure island playsets the scene is set for some great bedroom floor battles!
Naturally the toy pirate figures need an opponent to fight when they're not squabbling amongst themselves, and officers and men of the Royal Navy are the perfect enemy. Naturally all of these models have plenty of weapons to choose from including daggers, swords and pistols. Some even have cannons and grappling hooks to help them climb onboard an enemy's ship.
Some of the best accessories are made by wooden toy makers like Le Toy Van with their Barbarossa wooden pirate ship that is perfectly scaled to fit the toy pirate figures. Lego and Playmobil both have pirate figures and ships in their ranges, and some can even be fitted with a keel to make them float in the bath! It seems that UK kids have a never ending appetite for anything to do with pirates!
FEATURED RETAILERS

The world's most famous online retailer sells an unparalleled selection of toys.
Visit Amazon Now >>
Other categories in our
Figures
section:
Cowboys & Indians
,
Dinosaurs
,
Dogs
,
Dragons
,
Fantasy
,
Farmyard
,
Horses
,
Kings & Queens
,
Knights & Princesses
,
Pets
,
Sea Life
,
Soldiers
,
Wild Animals
.