Toy Dinosaur Figures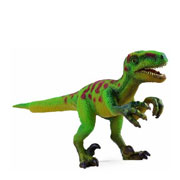 Possibly the most exciting range of toy figures is represented by prehistoric animals, or otherwise commonly called dinosaurs. These huge beasts are deliberately made larger than other ranges of toy figures to create an impression of the huge size compared to creatures living on the earth today. Although made by several different manufacturers, Schleich and Papo probably have the most comprehensive and detailed selections of these popular toys.
The Tyrannosaurus Rex is of course one of the biggest and most frightening, and standing nearly 20 centimetres tall you get a great impression of size and fierceness! T. Rex is only the start however. There are plenty of other dinosaurs to buy such as Mammoth, Parasaurolophus, Stegosaurus, Triceratops, Velociraptor and the flying Pteranodon. These are just a small selection of dino figurines to add to your collections.
You could also look for the Brachiosaurus, Apatosaurus and the Allosaurus which although not quite so well known, are still a major part of the dinosaurs who once ruled the earth. Accessories are not needed to accompany these massive prehistoric animals, although you can find a primitive cave man with his spear, hoping to fight off attack. Whilst these highly detailed figures are incredibly popular, other makers supply these figurines in many other sizes and assortments for those kids that want to create a big collection quickly. You can even buy dinosaur skeleton figures to see how big and powerful their legs and jaws were!
FEATURED RETAILERS

The world's most famous online retailer sells an unparalleled selection of toys.
Visit Amazon Now >>
Other categories in our
Figures
section:
Cowboys & Indians
,
Dogs
,
Dragons
,
Fantasy
,
Farmyard
,
Horses
,
Kings & Queens
,
Knights & Princesses
,
Pets
,
Pirates
,
Sea Life
,
Soldiers
,
Wild Animals
.
OTHER RETAILERS