Cowboys & Indian Toy Figures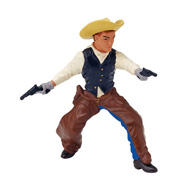 Even in the 21st century, cowboys and indians still hold a strong fascination for little boys and girls. Apart from wearing dressing up outfits, toy guns & holster sets, cowboy hats and playing with toy rifles thereís nothing better for the wild west fans that getting out their collection of toy cowboys and indians figures and doing battle all over the bedroom floor.
Papo and Schleich are well known for their super detailed figurines, and both companies make a terrific selection of toy cowboys and indians figures complete with all their various weaponry like bows and arrows, tomahawks, rifles and lassos. Thatís not enough of course as every indian needs to attack the cowboy wagon train and steal all the gold inside or ambush them around the campfire. Schleich make some of these great accessories as well as indian canoes and tents. Le Toy Van have a wonderful cowboy fort all ready for a major ambush.
Not to be outdone, Playmobil has a whole range of cowboy and indian toy figures to go with their forts and other accessories, and many other companies have less detailed figures available in larger bagged assortments, often complete with scenery and horses.
FEATURED RETAILERS

The world's most famous online retailer sells an unparalleled selection of toys.
Visit Amazon Now >>
Other categories in our
Figures
section:
Dinosaurs
,
Dogs
,
Dragons
,
Fantasy
,
Farmyard
,
Horses
,
Kings & Queens
,
Knights & Princesses
,
Pets
,
Pirates
,
Sea Life
,
Soldiers
,
Wild Animals
.