Wild Animal Figures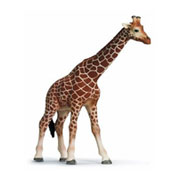 Toy wild animal figures have long been enjoyed and collected by millions of children worldwide. These small toy figurines are detailed and painted in such a way as to look almost totally realistic. The list of animal figures is almost endless and includes elephants, giraffes, lions, tigers, panthers, cheetahs, bears and crocodiles.
They are usually also available in male, female and infant forms so that children can build a family collection. Papo and Schleich are the main makers of these models and the scales are kept constant so that they all look in proportion to each other. Another main supplier is Britains, and between all of the makers they probably offer almost every wild animal in existence. Companies like Le Toy Van and Plan Toys also offer a series of safari buildings, zoos and play environments to enhance kidís pleasure when playing with their toy wild animals. These also help to keep the creatures safe at night time!
Some ranges of wild animal figures can also help to educate children in the welfare of some endangered classes, and larger models may even offer a short leaflet about the evolution of some species. If kids want to collect chimpanzees, tortoises, camels, gorillas, polar bears or pandas, they have a wonderful selection to choose from. Ranges are constantly evolving and improving with the introduction of new poses or improved colours.
FEATURED RETAILERS

The world's most famous online retailer sells an unparalleled selection of toys.
Visit Amazon Now >>
Other categories in our
Figures
section:
Cowboys & Indians
,
Dinosaurs
,
Dogs
,
Dragons
,
Fantasy
,
Farmyard
,
Horses
,
Kings & Queens
,
Knights & Princesses
,
Pets
,
Pirates
,
Sea Life
,
Soldiers
.