Toy Sea Life Figures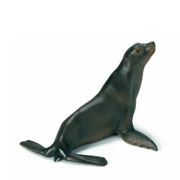 Itís widely acknowledged that manís knowledge of life under the sea is still quite limited, but sharks, whales, dolphins and seals are just a few of the toy sea life figures that are available for children to collect. Measuring up to 20 cm long for the largest whale, these models can be highly detailed and authentically coloured. Not only do they help to teach children about these magnificent creatures of the sea, but they are designed in such a way that they can be easily displayed in a cabinet or on a shelf.
Several manufactures make comprehensive ranges of sea life figures, which ensures that if you are collecting sharks for example, there are probably twenty different varieties available. Papo and Schleich are the two most well known suppliers, and others even make figures of octopuses, squid, tropical fish, polar bears and walruses.
Not just confined to children, many adults are also avid collectors of sea life models which also include turtles, penguins and manta rays. Together with farm animals, wild animals, knights, soldiers and dinosaurs, the list of toy figures is almost endless.
FEATURED RETAILERS

The world's most famous online retailer sells an unparalleled selection of toys.
Visit Amazon Now >>
Other categories in our
Figures
section:
Cowboys & Indians
,
Dinosaurs
,
Dogs
,
Dragons
,
Fantasy
,
Farmyard
,
Horses
,
Kings & Queens
,
Knights & Princesses
,
Pets
,
Pirates
,
Soldiers
,
Wild Animals
.